Interstellaria Blasting Off In July
Deadly exploration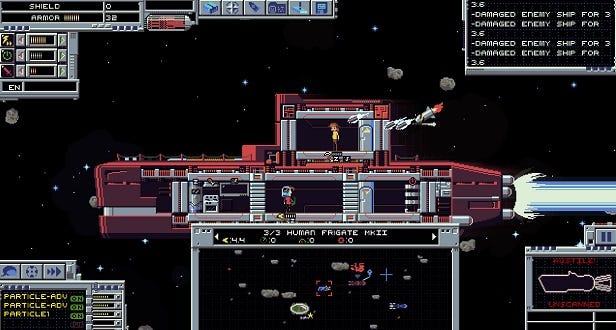 Rapidly bobbing heads, ahoy! Interstellaria [official site] reminds me strangely of a cross between Swords & Sworcery and FTL. (Seriously, look at those craniums vibrate.) This real-time space exploration game has recently picked up a release date - July 17th - and a shiny new trailer too! Woo.
The basic idea is quite stellar, if you'd excuse the shameless pun. You're an interstellar captain who must lead a fleet of vessels through the cold, nether regions of space in pursuit of... oh, whatever the heck you want, really. Money. Conquest. The ability to shoot plasma-fueled death at alien dinosaurs. The possibilities are not exactly endless, but they're certainly quite expansive. In particular, I'm looking forward to the idea of micro-managing dysfunctional crews, even as they run about trying to put out fires while keeping themselves amused. (Will the two be related? Who knows?)
Featuring music from the unimitable Chipzel, Interstellaria will have you pillaging planets and picking out outfits for your crew members. It'd set you back about £6.99/8,99€/$9.99 which isn't terrible at all, I think.