Double Fine Recover Iron Brigade, Ditch GFWL
Boshed in Steamworks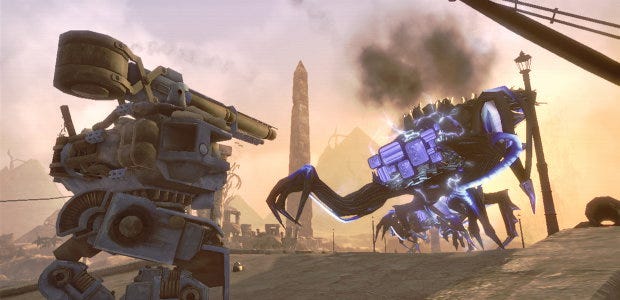 Like a video games company keen to own and preserve everything it makes, Double Fine have swooped in to snatch back 2012's Iron Brigade [official site]. That simile's perhaps unpoetic and unamusing. Could've said "a big protective bird" or tried a 50 Shades of Grey joke that didn't work and was a good few years behind pop culture.
Anyway, the point is, Double Fine now own The Intellectual Property Formerly Known As Trenched and have started self-publishing it - taking over from Microsoft Studios. To celebrate this, they've put it on sale and ripped out the hateful Games for Windows - Live.
Released in 2012, Iron Brigade was one part tower defense, one part stomping around atop a honking great tank bristling with guns. Our Alec was a big fan back in the day.
Yesterday brought the announcement that they've picked up the rights and released a new patch for the Steam version. "In addition to bug fixes and improvements, the original matchmaking system has been removed and replaced with matchmaking via Steam," DF say. Good stuff!
Iron Brigade is on sale on Steam until next Tuesday. An 80% discount makes it £2.19, or £5.99 for four copies so you can play with your pals or trade gift copies or whatever it is you kids do on Steam nowadays. Sexting? That's a thing, isn't it? Someone mentioned 'sexting' on Radio 4's The News Quiz and everyone laughed so I assume you're doing the same right now.
I'm smashing it today.