It Shall Be Mined: DwarfCorp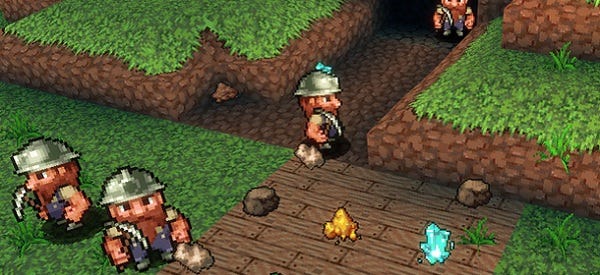 Dwarves! They dig, they drink, they braid their beards, they dig even deeper, they industrialise, they capitalise. Then they dig too deep, they immolate, they capitulate, they perish in darkness. The quest for 'Dwarf Fortress With Graphics' is one of the proudest that development fellowships can undertake, almost spawning a genre in and of itself, and DwarfCorp fits the bill. Currently Kickstarting, it's a striking (the earth) simulation game about mining, building and surviving on procedurally generated islands. The world generation alone makes me hunger for the game and the campaign page is sturdy and informative. You can view the pitch video and watch lots of alpha footage below.
Here are the details on terrain and history generation. History generation. Is there a more noble phrase?
The islands in DwarfCorp are procedurally generated and fully simulated.They are different every time you start playing. Fault lines, air currents, moisture, temperature, rainfall, rivers, lakes and oceans are all simulated through the passage of time -- which gives rise to forests, deserts, snowy tundra, jungles and grasslands. Additionally, civilizations of Goblins, Elves, Humans and Demons are randomly generated and given time to "fight it out," so to speak, on the island. So you, as the Dwarven outsider, will make quite a splash as you arrive.
Very Dwarf Fortress. Be aware that while the early prototype is available now, the actual game is at least a year away.