Jet Set Radio's stunning spiritual successor Bomb Rush Cyberfunk launches in August
Humming these basslines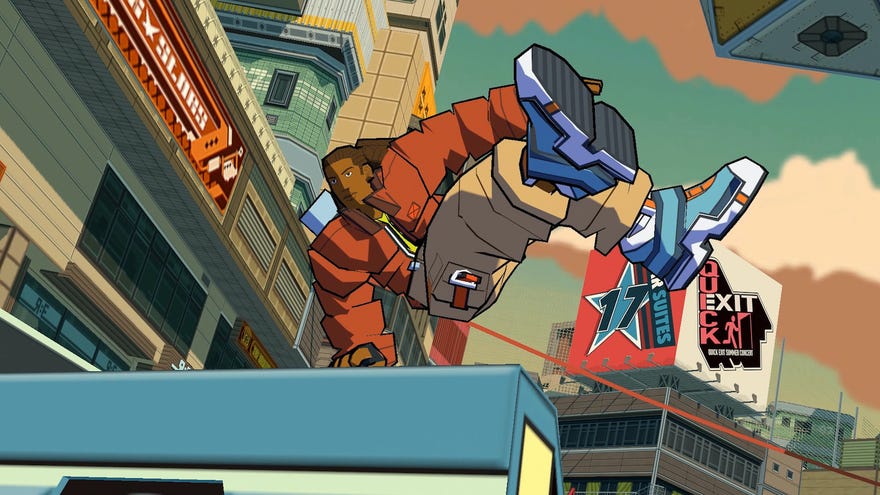 After a slight delay, the cel-shaded platformer Bomb Rush Cyberfunk finally has a release date: August 18th. It's been a long wait for Cyberfunk after it was first announced in 2020, and to make the wait even more excruciating, the game is a spiritual successor to the dormant Jet Set Radio series. As such, you'll be skating, dancing, and graffitiing across a colourful 3D city with a style to die for.
Its newest trailer (embedded above) debuted at last night's Nintendo Indie Showcase, and I'd like more of this vibe sprayed over my eyeballs, please. Right off the bat, we see loads of ways we can potentially navigate the futuristic city of New Amsterdam, chaining together rail grinds, cartwheels befitting a gymnast, and an unnaturally high jump only reserved for platformers. The city will be split into five boroughs which sounds like five mini-open levels.
The game follows the Bomb Rush Crew as they battle other colourful gangs for control of the streets. These aren't the sharp gun-wielding gangs (although maybe there will be some of that), these are instead the spray can-welding types, fighting over territory with the power of art, man. Graffiti the city, tag your spots. A conspiracy begins when newbie Red joins the group, and as you might have noticed, he's been beheaded and now has an AI robohead instead of a flesh-and-skin one. The increasingly prolific police force will likely play a role too.
Bomb Rush Cyberfunk comes from Team Reptile, the studio responsible for the anti-gravity battling of Lethal League. One of Jet Set Radio's beloved composers, Hideki Naganuma, is back on music production. His jazz, hip-hop, and funk fusion meant JSR's tunes would worm their way into your memory, permanently, and the snippets we've heard of his new music sound just as good. There's also a hint of UK garage in the mix, adding to the slightly rebellious vibes.
Anyway, after a recent leak of a potential new Jet Set Radio, my appetitie is whet and I'm unnaturally hyped. Bomb Rush Cyberfunk will skate onto PC via Steam and Nintendo Switch on August 18th, followed by "other platforms" at a later date.