Bientôt: Killing Floor 2 Due In Early Access This Month
A jaunt to Paris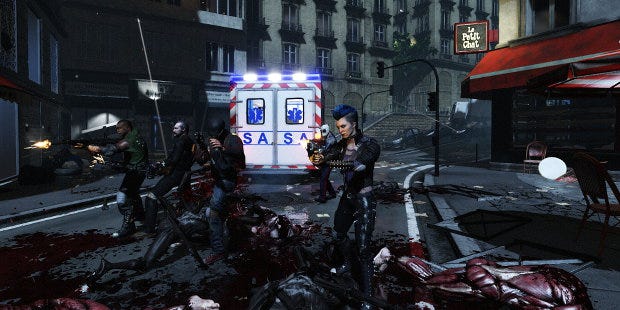 As luck would have it, I'll be in Paris right when monstrous hordes are due to overrun the city. Tripwire Interactive have announced plans to release Killing Floor 2 [official site] onto Steam Early Access on April 21st, and I'll be on the look out for - wait is that a lady with blue cyberhair in that screenshot - for myself?
The original was a barrel of murderfun, and I'm quite keen to return for more first-person face-shooting. Especially as one of the sequel's big selling points is that faces (and other bodyparts) will explode in a squillion different gory ways.
Killing Floor is a bit messy by now, largely due to how well Tripwire have supported it over the past - gosh! - six years. The squillions of extra weapons and maps have kept players interested, but made it a mite overwhelming for me as a infrequent player. Whenever I pop in, I'm on maps I don't know surrounded by weapons I haven't seen wielded by people who've maxed out their characters. A clean slate sounds grand.
It'll be a very clean slate indeed at launch, as Killing Floor 2 will initially only have a fraction of the original's content. Here, look, they've updated the website to show which weapons, classes, monsters, and playable characters will be in the initial Early Access launch. It'll also include the level editor.
It'll cost £19.99/$29.99/€26.99.
If you fancy seeing more, here's a full match from folks at RPS fan site PC Gamer: