King ARE Trying To Candy-Crush The Banner Saga
The Saga Saga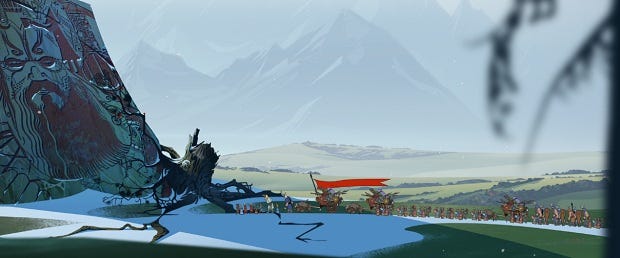 Yesterday the internet was alive with the news about King, owners of Candy Crush Saga, their trademarking of the word "Candy", and their ensuing threats to other developers who are using the word in their game titles. The response from King was to flap their eyelashes and protest innocence - they were only defending the Earth against evil, not liberally chasing anyone and everyone. About that. We've seen the document that shows their attempt to go after The Banner Saga.
Stoic's The Banner Saga is based on ancient Norse mythology. The "banner" in the title refers to items like the Raven Banner, a totemic flag depicting symbols of Odin. In Stoic's game, these banners are far longer, used to tell long tales of battle. Tales, or indeed sagas, rooted in Norse myth. In the game, the army of giants and humans carry these banners telling of their sagas. The game is therefore called The Banner Saga. It has as much to do with King's Candy Crush Saga as a wet tea towel in a cement mixer. And yet...
Over the years, King (née King.com) has registered a lot of trademarks. These include Bubble Saga, Bubble Witch Saga, Mahjong Saga, Puzzle Saga, Hoop De Loop Saga, Pyramid Saga, and of course Candy Crush Saga. It is based on this that the casual puzzle game developer is arguing that Stoic's title infringes upon their trademark, and would be too easily confused with their products.
Of course, King has gone one step further, and has an application for a full trademark on simply "saga", which has yet to clear. They believe, as is proven by the nonsensical awarding for a trademark for "candy", that they have the right to lay ownership to common English words, and then use this - and their considerable wealth - to take out anyone who crosses their path. And it seems, those who wander nowhere near their path.
The wording of their opposition states "Applicant's THE BANNER SAGA mark is confusingly and deceptively similar to Opposer's previously used SAGA Marks." Deceptively? That's because of their prior claim, "Upon information and belief, Applicant had knowledge of the fact that Opposer used its SAGA Marks as trademarks before it adopted its mark." This wild supposition is purely evidenced by King's having widely promoted their casual puzzle games, rather than because of any direct contact with Stoic, or actual proof that Stoic used the name maliciously. Because of course there isn't any. Because, of course, Stoic were using a word that specifically refers to "ancient Scandinavian and Germanic history", which their game was about.
The most eye-blinking thing about this farce is that King, without irony, spell out their belief that they have "prior" on the word.
"There is no issue of priority concerning application Serial No. 85/819,941 since Opposer used its SAGA Marks at least as early as 2011."
King, I think the Vikings might be able to just about beat that. And yes, clearly this is about game names, but even so, their claim is tenuous. The above quote continues,
"...which is prior to Applicant's January 10, 2013 filing date and alleged January 1, 2012 first use date."
So they say they used the trademark "as early as 2011", and that Stoic first used it on the day after 2011. It's not exactly solid evidence of their attempt to piggyback on King's reputation.
So here's the problem. This is how trademark law works. Where both US and UK trademark offices are willingly allowing companies to claim rights over incredibly common English words, the system is the primary source of the mess. That massive, rich companies abuse this is not surprisingly, although always massively disappointing. And part of this system is the need to assert your trademarks. So if King believes it has sole rights to use the word "saga" in its game titles, it needs to assert that right to maintain it. The problem is, they patently don't. The very concept that because they gave a bunch of their games similar names means they then inherit the right to that word is false. If anyone has claim over the word saga, it's the Vikings.
Stoic is a very small company. They may have done well from their Kickstarter and alpha, but they remain a small indie team, and are very unlikely to have the sort of cash put aside that could pay to take on a behemoth like King in the courts. King's claim is massively flawed - they are stating that the word leads to confusion, that people might think The Banner Saga was created by them, and therefore Stoic are infringing their trademark. But this infringement is in no way in bad faith. Their claims that it's "deceptive" are outrageously far-fetched, and they know it. Stoic has an excellent argument for using the name they did - a game based on the sagas of the banner-carrying Vikings. But if King pushes this, what chance do they have?
The extent of King's Notice Of Opposition, made on the 29th December, is to have the US Patent & Trademark Office refuse Stoic's trademark for "The Banner Saga". However, they could still push this a lot further. They could, if successful, then start issuing threats to Stoic that they are infringing, and have to remove their game from sale.
The only thing likely to change their behaviour is public outrage. You can contact King to ask them why they feel it's necessary to treat indie developers in this way, when they know full well the game is no threat to their business, and certainly not using its name in bad faith. You can tell your Candy Crush Saga-playing friends about the company behind it, the company to which they're giving their money, and convince them to stop. You can go out of your way to not endorse a game publisher that behaves this way.
What King are doing is wrong. They know it. They need to know we know it.