Latest Image From Mystery Carbine MMO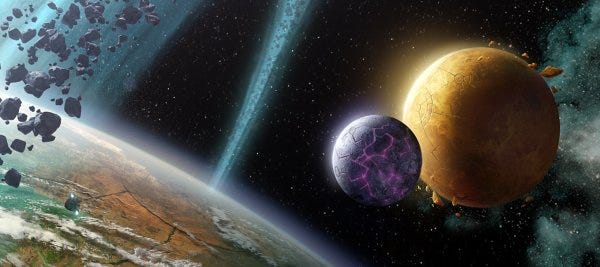 Carbine's art director Matt Mocarski has posted an early image from the game (above, click for full), as well as a statement of intent for his visual style, which he describes as "hand-crafted" and "magical": "We knew we were a future fantasy game - players will see both fantasy and sci-fi elements in our world and our gameplay. We also knew we'd need to be able to tell a huge variety of stories, everything from intense drama to mind-blowing action to humorous tales. There were a few influences that we really focused on. Animated films such as Atlantis, The Secret of Nimh, and Princess Mononoke really nailed the overall look of the style. We know that our game was for adults so we studied shows like Naruto and Full Metal Alchemist to see how they balanced a unique visual style with stories that had both humor and drama. Lastly we looked at comics such as Hellboy, Battle Chasers, and Tank Girl to influence our balance of technology and fantasy."
The game is set to be revealed by NCSoft later this month, and we're mildly excited. Here's why.