Life Is Strange: Before the Storm starts in August
Oh my heart...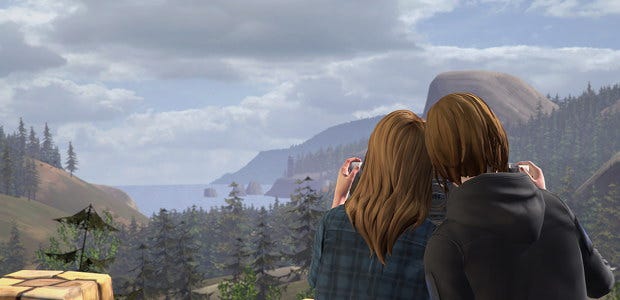 Heartbreaking teen melodrama Life Is Strange will return on August 31st with a three-episode prequel starring Chloe, named Life Is Strange: Before The Storm [official site]. Set three years before the first game, it'll tell how Chloe's doomed relationship with gal pal Rachel Amber began. Life Is Strange makes clear how that all ends so sure, go on, twist the knife, you monsters.
Unexpectedly, this is in addition to the new Life Is Strange game that creators Dontnod Entertainment recently announced. Yup, a different team is making it, so two new Lives Are Strange are coming. Here, check out the announcement trailer:
"The whole game is set 3 years before the events of the first," publishers Square Enix explain, "and you'll experience the very beginning of the friendship between Chloe and Rachel, and the events that brought them so close together."
Life Is Strange, if you missed it, is a story 'em up about Max a gal who gains time-travel powers then tries to save her town from a terrible storm while also investigating a mysterious disappearance, navigating school life, and galling around with her pal Chloe. I really dug it. The teen melodrama starts clunky but oh, it really got its hands around my heart and squeezed. Pip and I summed up some of our thoughts about the series in a chat.
This time, Chloe is the star and no, she won't have any magic powers of her own. Squeenix do hint that this will have a supernatural tinge, though I'd guess it's simply along the lines of more totemic animal shenanigans - now with a crow.
Life Is Strange: Before the Storm is made by Deck Nine Games, who were previously known as Idol Minds, a name under which they made... some video games I guess? None of that is encouraging. Though when Deep Nine announced their change of name in May, they said they had shifted their focus to narrative-driven games and hired a load of new staff. I guess we'll soon discover how that has worked out.
Here, this video developer diary doodad has some of the team and Chloe's voice, Ashly Burch, gabbing about the game:
What about Max? She's out of town during this period, but will be playable in a prequel-prequel bonus episode exclusive to the Deluxe Edition. Squeenix say this episode, named 'Farewell', "takes place long before the events of Before the Storm". So that'll probably be about when Max and her family left town for Seattle. I don't think my heart could take it.
Putting story in bits exclusive to special editions is a bit beh. Squeenix do insist that it's not essential to Before the Storm and that people who don't play Farewell "will get the full story". They say it "really is just a bonus episode for those who would like to play as her one final time." I'd be surprised if they don't later sell it separately or offer a discounted upgrade but, if they're not going to include it with the main game, I'd rather it were sold as DLC. I'm tired of decisions about which edition of a video game I want to buy, and don't think fondly of anything tapping into that special edition guff.