Life Is Strange Getting Boxed 'Limited Edition'
Sorry, North America?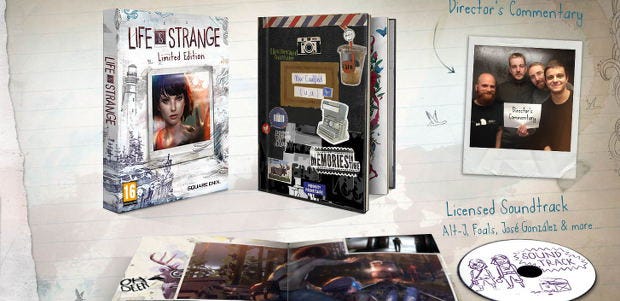 Life Is Strange [official site] is pretty great - great enough to be our current game of the month (er, whoops, we'll have more to say about it once we wrassle Fallout 4 down to the ground and hogtie it). It's great enough that even I, who no longer owns any game in hardcopy, can understand why someone might want to have on their shelf and hold it at night. Good news, gamehuggers!
Square Enix today announced a 'Limited Edition' physical release for Life Is Strange, coming in January with extra odds and ends. But not to North America, it seems.
Along with the five episodes on disc, the box (a box! can you imagine! it's not DRM-free, mind, still requiring Steam) will contain the score and licensed soundtrack on disc, a 32-page artbook, and director's commentary.
Wait, hang on, that director's commentary does interest me a bit, and it's a shame they're not clearer on what it is and how it works. I'd probably avoid hearing what the makers say myself, worrying afterthoughts of intent might twist my memories of the game, but I wonder if it'll be released digitally too.
The announcement notes this will bring German, Italian, Spanish, and Brazilian Portuguese subtitles too, which I imagine will be patched into the digital release too. It'd be awfully................. strange.......... if they didn't.
The Limited Edition is due on January 21st, priced at £19.99. Curiously, it seems North America will only get the Limited Edition on consoles: contrast their regional announcement with ours. I assume Numbers told Square Enix to do that, but it seems more than a wee bit of a bummer - not to mention........ strange.......