Live Spy: Jazzpunk Live Action Trailer
I like the phrase "gag sandbox"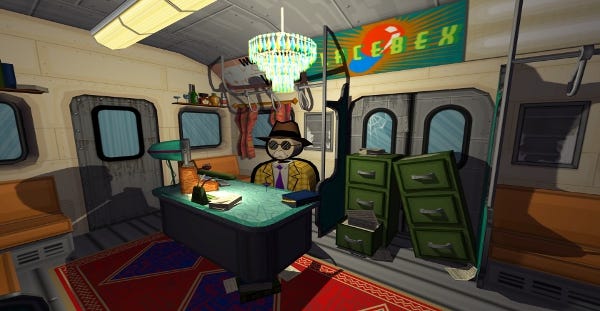 I first encountered comedy spy 'em up Jazzpunk at about 2am. I was on a merry jaunt through the IGF entries, and fell into it without knowing what I was about to encounter. I was spat out the other side, grinning and desperate to talk about it. I immediately informed John that he needed to play it and that I wanted to write about it, and he immediately retorted that Nathan had already covered it, and that I should read RPS more. He'll do anything for clicks. Well now it's my time to usurp that Nathan, who has the misfortune of being American and asleep. The trailer is below, and it is totally live-action.

It's an okay trailer. I can't really disagree with the preparations the chap has to go through play the game, though my briefcase contained a slot for a cat, not a pigeon, and I didn't bleed out any orifice when I played it.
I'm really just posting it to remind you that the game is coming out next month, on February 7th. Having played the IGF build, I'm incredibly excited for all the people who'll get to experience the gag sandbox that I played well past my official bed-time.