Liveblog: Gamescom Opening Night Live 2022
Join us for an evening of reveals from the Cologne megashow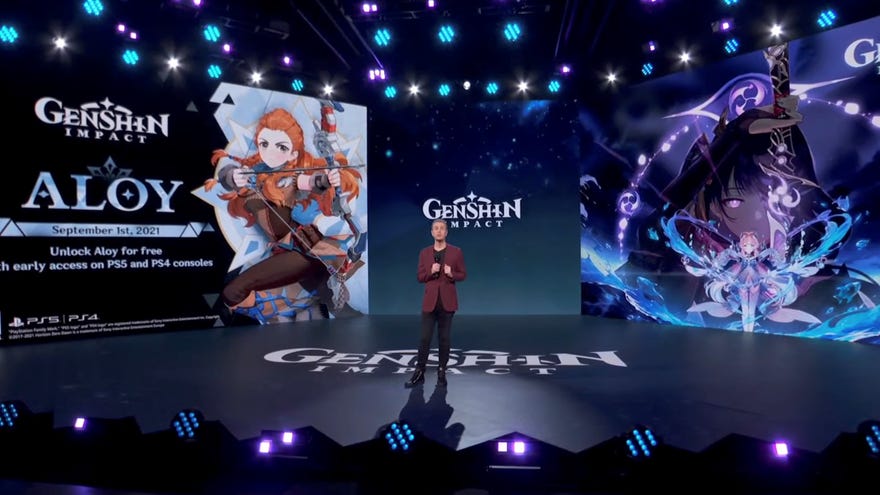 Gamescom returns tonight, both as an in-person event and by way of its Opening Night Live showcase. Just like last year, Opening Night Live 2022 looks set to be Summer Game Fest-style marathon of brand new game reveals and unseen trailers, hosted by Geoff "Among Us DLC" Keighley. This year, we're also liveblogging the whole thing here on RPS.
You can follow along using the embedded stream below, or watch on YouTube or Twitch; the show begins at 7pm BST / 8pm CEST / 2pm EDT / 11pm PDT. Joining me for the liveblog (also below) will be Liam and Hayden, who's staying up past his bedtime just for this. Indeed, it's a biggun: lasting two hours and covering over 30 games, according to Geoff himself. So, with no time to waste, let's blog - live.
---
For more Gamescom coverage, be sure to check out our Gamescom 2022 hub for all the latest news, impressions from the show floor and more.
Our live coverage of this event has finished.
Guten Tag, or Abend, depending on when you're reading this. We'll be here for our Gamescom Opening Night Live liveblog shortly before it kicks off at 7pm BST. Danke.
Hello! Show's live in two minutes. We're blogging it. Hope that helps.
Hello everyone! I have a box of Heroes - all the CHOCOLATE!
Ed's already on his way to Germany to cover Gamescom in person, btw. I'm flying out there tomorrow but since that's not *today* I've been Shanghai'd into managing these two.
Heroes in August. I didn't even think it was possible to buy them outside of December.
This is the first time I've ever got a box of Heroes for myself, it's a real treat.
I like his trainers a lot. Cool jacket, too. Bad boy Geoff. Like an unlockable skin.
Here's the first game. Dunno what is is yet but they're showing some fantastical concept art and..what I'm fairly sure was a silhouette of Captain Tom???
The game is Everywhere. It's an open world...something? Racing, platforming, shooting etc.
This sounds kinda metaversey.
Lots of talk about "players making their own experiences" and the like but nothing about what the game *is*. Out in 2023, though, and there's a website: https://everywhere.game/
Next up, a game by Level Infinite, Funcom and Legendary. Is this... is this DUNE?
Everywhere might have just had the vaguest reveal for a game I've seen in my career. And it's only the first one in this show!
Sand planet? Suit that recycles your wee? GIANT SANDWORM? This is definitely DUNE.
Yup. Dune Awakening. A Dune open world survival MMO. Intriguing.
It's time to D-D-D-D-D-D-D-D-D-D-D-D-Dune.
PlayStation talk now, so we'll see how relevant this is for us. So far, that is indeed a pretty controller.
Oh, that's it. A very pretty controller.
The Callisto Protocol next - gonna see some in-game footage of the Dead Space sequel that isn't a Dead Space sequel.
(Very nearly typo'd that as The Calico Protocol. Which I'd also play)
That was the Dualsense Edge controller, a high performance, customisable controller. Nothing on the PlayStation blog yet, but Geoff said you can learn more there soon.
Okay, so there's a stealth element that Dead Space didn't have - our man uses his sci-fi telekinesis powers to quietly snuff out a few monsters before he's clocked and attacked.
Now he's stuck in the flow of a giant sewer(?). Looks quite fun sliding down with the tide until he slams into a giant fan blade, with gory results. And that's a wrap!
Apparently we've been waiting for this upcoming fantasy game for a while. Curious. We're seeing lots of folks in big armour fighting some nasty looking monsters.
That's two big game events now where The Callisto Protocol's protagonist ends his showing by dying horribly. I'd stay away from Geoff if I were him.
Two knights are having a scrap in front of a three headed dragon while a 70s rock track (apologies, I can't Google the name in time) plays in the background. One of the knights has been stabbed, but he has a magic lamp that seems to have brought him back to life?
Lords of the Fallen is coming to PC. I'm assuming it's a sequel / reboot of the 2014 souls-like that shares the same name?
Hogwarts Legacy. Okay moving on...
Now we're looking at a sequel to Moving Out - something that I'll probably never do in the current economy! Moving Out 2 is coming in 2023 with more co-op shenanigans for you and your pals.
New Tales From the Borderlands, as expected. Randy Pitchford is onstage.
This is being developed by Gearbox Quebec, and is out October 21st.
Obviously not a Telltale production, but apparently involves some of the original Tales' narrative team, and looks much closer in tone to Tales than the mainline Borderlands games. Also: whole new cast!
I think New Tales From the Borderlands is the full name, by the by.
Dying Light 2 DLC now (as we also expected). Hayden has reliably informed me it's called Bloody Ties.
It looks like the pack will pit you against zombie and human enemies alike in various arenas. It's out October 13th.
Marauders, space fighting looting game, on screen for all of ten seconds.
Ads are coming thick and fast. We just saw Tortuga: A Pirate's Tale - it's a pirate game!
Something sci-fi now. It looks like... Halo? Destiny? Three armoured space folks (wizards?) are shooting some alien nasties. Oh it is Destiny 2! Lightfall, which is the next big expansion pack, is coming February 28th 2023.
Metal: Hellsinger, the upcoming rhythm action FPS, just won a Most Wanted PC Game award. Man, that was revealed what, two years ago?
On to Sonic Frontiers now, and the new trailer will have a release date! Any second now...
I can't stop thinking about Lightfall. I love Destiny. I hate Destiny. I am destined to keep going back to it until Bungie physically stops my endless cycle of joy and despair.
The trailer showed lots of Sonic running very fast, with some moody music in the background. Sonic's probably way out of his depth here, if I'm honest. And was that evil Amy at the end? We'll find out when Sonic Frontiers launches on November 8th 2022.
I also love/hate Destiny 2 for what it's worth, Liam - I play it and have no idea what is happening, but the shooting is so much fun.
Ooh, Under The Waves looks interesting. Third person underwater exploration in what looks like a flooded Earth.
Appreciate I basically just said "Wow apocalyptic climate change looks fun".
We're seeing some gameplay footage of Goat Simulator 3 now. The game will feature all the usual activities you'd expect (headbutting folks, goat yoga, explosions, skateboarding sharks) as well as customisable goats. It looks as daft as the original and it's out November 17th.
I've never played a Goat Simulator game, but the trailers just make me so happy. Goats are just silly. Watching goats do silly things is the best.
Return to Monkey Island now, which is coming on September 19th! That's soon! The trailer was mostly a few good jokes and a look through a bunch of different locations.
Next, a new game from Subnautica devs Unknown Worlds. Something turn-based and sci-fi, according to Geoff.
It's called Moonbreaker, and it's a board game-style turn battler fought with animated miniatures.
Maybe not so much board game as Warhammer, actually. You collect and digitally paint your miniature collection before sending them into battle. Early access on September 29th.
That's a verrrrry detailed painting system, yo.
Finally, a way of building and painting minatures without the risk of supergluing your fingers together.
There'll also be a couple of open weekends before that early access launch.
I just broke a mini last night, so digital minis sounds like a blessing right now. Still mourning the loss of my Royal Warden.
Not that I've ever done that. It happened to a uhhh. A friend. Multiple times. And then his Dad banned him from building Warhammer.
Next up is a lovely animated trailer for Friends Vs Friends. A bunch of anthropromphic animals slaughtering each other with guns and swords. It's a first person shooter with card mechanics and it looks extremely rad.
We just saw a trailer for Lies of P, a Pinocchio-inspired soulslike. That's an... odd combo! It's a steampunk world, so expect lots of guns and automatons mixed in with the souls combat.
After a brief interlude, here's Stranded: Alien Dawn. Looks like a farming/survival sim where you'll be sustaining yourself after crash landing your spaceship. 3D RimWorld?
Coming to early access on Steam in October.
A trailer for the new game by The Surge developers Deck 13, now. We're seeing two warriors fighting armoured sand creatures among some sand coated ruins. It's called Atlas Fallen, it's out in 2023 and it lets you do some sick zoomies across the desert.
That was Homeworld 3, a sequel to the 90s strategy series that apparently nobody in the Gamescom crowd tried (there was a hilarious deafening silence when Geoff asked if anyone had played). It's coming in the first half of 2023.
Genshin Impact 3.0 up next. A look at new catboy character Tighnari in action, plus a glimpse at the new region, Sumeru.
We're getting a sneak peek at Honkai: Star Rail, next. It's a strategy title about... anime characters on a train that flies through space? Colour me intrigued.
High On Life is up next, which recently got delayed into December.
This looks like a boss battle, but obviously that gun that sounds like Morty is talking a lot between shots. Oh, and a very violent knife. They did say the Opening Night Live stream would be 18+...
A little disappointed that the Morty gun is seemingly just a regular peashooter, but there's grappling, I suppose. Grappling hooks are nice.
Gonna take this ad break to say High on Life's shooting looked properly dire.
Hardspace: Shipbreaker, an RPS Bestsest Best, is coming to consoles in September.
Good for them. Good for them!
Here's a reel of the many games on or coming to PC Game Pass. (It's a lot.)
Here's a trailer for The Expanse: A Telltale Series. We're seeing some light action as well as some exploration. It appears that the main character is from the original TV show, with the actor reprising their role for the game. It's out next year.
Killer Klowns From Outer Space is getting a game! It's called... Killer Klowns From Outer Space: The Game. Incredibly creative, that.
Now for a new game. Yes! It's sci-fi again!
It's Scars Above, an action-adventure set on what looks like a bunch of half-wrecked alien worlds. Some shooting, a touch of horror, light mystery.
Next, a first look at a brand game created by Something Wicked Games. Lots of veterans working on this one, based on the title card.
Wyrdsong. Wrdsong? Wrdsong. Not sure what it's about, but we saw a knight (what is it with knights tonight?) and a monster that turned towards the camera before doing a cheeky little "shh" gesture.
News on new civs for Age of Empires 4, now. Two new civs are coming: the Malians, and the Ottomans. Both have lots of tiny people fighting on a very grand scale. They're seemingly coming in a free anniversary update on October 25th.
Gotham Knights time. Rogue's gallery seems to include Harley Quinn, Clayface, Mister Freeze, along with previously revealed baddies the Court of Owls.
Gotham Knights time. Rogues gallery seems to include Harley Quinn, Clayface, Mister Freeze, along with previously revealed baddies the Court of Owls.
Also an earlier than expected release date: October 21st. Will see Freezey in a giant mech suit, apparently.
Up next we have Where Winds Meet. It's a brand new open world action game that looks a lot like Ghost of Tsushima with supernatural elements. It's very pretty and the fighting looks properly slick.
Hideo Kojima is doing another podcast, called Brain Structure. It's coming to Spotify from September 8th, and there'll be an English translation, unlike his other 'cast, Hideo Kojima's Radioverse. Will still be chatting about games, mind.
After a video from Geoff's very good pal Hideo Kojima, we're whizzing onto the next game. It's a theme park management game from Bandai Namco called Park Beyond. It's coming in 2023, and lets you build a theme park! I feel like I've been preparing for that my entire life (with lots of other theme park games).
Mini has made a Pokémon car with "gaming features". I think this means that the car has RGB lighting as well as a screen that displays a Pokéball.
Imagine driving 80mph on the motorway and Pikachu starts doing an electric shock attack animation on the 27" screen in front of you that makes all the RGB in your car flash repeatedly. Hell.
Darktide! This is the spiritual successor to the excellent Vermintide that's set in the Warhammer 40K universe. It looks grim, gory and great. I can't wait. It's out on November 30th.
Another game reveal: Blacktail, a first-person witch-'em-up with added archery. There'll be moral choices that determine the evilness of your evil witch.
A new update for Crossfire X titled Babylon is on its way. Some additional shooty bangs for your shooty bucks.
We just got a very short look at Phantom Hellcat, which featured someone slashing around a lot with a purple sword before changing perspective for a bit of sidescrolling.
Dorfromantik, which might have been Katharine's favourite game of last year, is coming to the Switch.
A look at The Outlast Trials now! It's Outlast, but multiplayer (which includes lots of chopping off limbs, as usual). Feels like I've been waiting for this one for a while. I really enjoyed the first Outlast game, but got stuck when I ran out of batteries and had to fumble around in the dark for hours. A friend to guide me through that pain sounds lovely, actually. Doesn't sound as scary, though.
The Outlast Trials will get a closed beta over Halloween weekend, running from October 28th-November 1st. You can volunteer for the beta now.
A tease for the first game by Embark, a team comprised of Battlefield devs. It's called the Finals and a full reveal is coming next month. It has... guns? And coins? That trailer didn't really give much away, really.
Last game of the night coming up and it is... Dead Island 2, by the looks of things.
Just a CGI trailer, starring a clearly hungover man casually smashing zombs. Nothing high-concept like the original, infamous Dead Island teaser, but also more of a self-aware, lighter tone perhaps?
And it's set in Los Angeles. That isn't an island!
Six playable characters, including the moody man in the trailer. LA is a "modern paradise gone to hell".
Ah, here's some in-game footage too.
Hayden has just told us he was 13 when Dead Island 2 was first revealed. I will never recover from this.
I loved the first Dead Island... back when I was 10 years old. That was a while ago, huh?
I'm getting a 'Dying Light with jokes' vibe. Still got an emphasis on melee combat with improvised, and customisable, bludgeoning/stabbing/slashing instruments.
And that's the show. Thoughts, chaps?
That's a wrap for opening night live! The highlight for me was probably Friends Vs Friends? That looked pretty rad. It was nice to see New Tales From The Borderlands as well, especially considering it's launching so soon. I adore the first game, so I remain cautiously optimistic about this in-house developed sequel.
I've been more overwhelmed, to be honest. Under The Waves looked interesting and I like the witch fantasy behind Blacktail, but nothing there I'm gnashing my teeth to play.
"Brand new worlds" felt like a bit of a slogan for this, which meant there were a lot of trailers that didn't show much actual gameplay. If anything, Gamescom ONL reaffirmed that I'm really quite excited for The Callisto Protocol. That waterslide looked like so much fun, even if it did end with the goriest of deaths.
OH! Moonbreaker! I liked Moonbreaker! I can't believe I forgot about Moonbreaker!
OH, Moonbreaker did look cool! I do love painting minis, and being able to paint without the stress of breaking little arms off and crying will be lovely.
Right, that's all from team liveblog. Cheers to everyone who followed along!