League Of Legends World Championships: Day 3 Is Fnatic vs Edward Gaming
Europe's top dogs take on China's EDG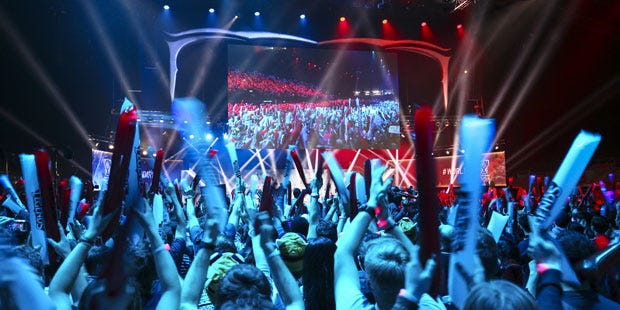 Today's League of Legends World Championships [official site] quarter-final is between top European team, Fnatic and China's Edward Gaming. Judging by the roars on Thursday for fellow European squad Origen, Fnatic can definitely count on the support of the crowd at Wembley Arena. I'll be popping over to watch the games and dodge the swag being hurled into the audience but before that here's a little more about each team:
Fnatic
Okay, so here's the thing about Fnatic. They changed their lineup a tiny bit after May's Mid-Season Invitational, welcoming back their former carry, Martin 'Rekkles' Larsson in place of Pierre 'Steelback' Medjaldi. Diving into the EU summer split (a multiweek stretch of top tier competitive LoL) Fnatic dominated. You've probably heard me mention it in other articles but they ended the split with 18 wins and zero losses. Origen did manage to take several games as the teams fought each other during the Summer Playoffs but Fnatic still triumphed.
The thing about their achievement, though, is that when you're dominating your region it can be hard to learn or improve. All of your strategies pay off so it's a bit harder to unpick their relative strengths and weaknesses. Being undefeated can mean you've got less to chew on. Rekkles said as much after the Summer Playoffs:
"The adaptation between games, and the feeling of actually losing, having to change things rather than just saying, ok this works, ok this works, ok this works. It's nice to be able to say ok, this doesn't really work against this. We learned a lot of valuable things and then we just have to practice hard."
In terms of groups, Fnatic finished top of their group but only because their mid-laner Febiven exploited a mistake made by their opponents ahq to devastating effect. It was ahq's game to throw away rather than Fnatic's to win at that point. After the match Febiven pinned the result on overconfidence which had led to a bad drafting phase and then, once the game started getting away from them, the team didn't seem to have the discipline to pull it back.
"I did some really bad things this game, which I normally don't do if I'm in an optimal mental state," he said in an interview with Riot. "When I jumped into the top lane at the second tower where I got one-shot, I don't know why I did that. It just starts because something goes wrong and then communication is negative. And then it gets to everyone's head and everyone feels desperate, or like they have to do something. And then bad things happen."
Quarter-finals will be their chance to prove (or not) that they've worked out how to deal with those problems successfully.
Edward Gaming
Edward Gaming got rather a rework in terms of their roster this year, picking up three new players to sit alongside the familiar faces of ClearLove and Koro1. Rookie support player Meiko, Samsung Blue's Deft (who had reached the semi-finals at Worlds 2014) and Samsung White's PawN (who was part of the team who took home the Worlds 2014 trophy).
The revamped lineup showed its teeth on the global stage when the team took the Mid-Season Invitational crown from favourites, SKT. Many were hoping for an explosive rematch of some kind once Edward qualified for Worlds and ended up in the same group as their rivals during the early stages of the competition.
Thing is, it doesn't feel like Edward Gaming has quite shown up at the event yet. The team have spoken of issues relating to health. Koro1 and PawN are both dealing with back pain so Koro1 was swapped out for substitute AmazingJ in the group stages to maximise recovery time. Their coach also points out that the team got sick on arrival in Paris.
But their performance in groups has also had elements of cockiness or even unpreparedness. I was watching them take on the Bangkok Titans in the second week of groups and their performance in the draft and early game made it feel like they hadn't taken their opponents seriously. Once Edward got their act together they were able to slap the international wild card team back down but it left a bit of a bad taste in the mouth. The perceived cockiness when drafting their hero lineup (not taking threats in their opponent's lineup seriously) actually led analyst YamatoCannon to remark that Edward Gaming were "starting to piss me off". Deft later said that the team was still struggling to deal with their defeat by SKT earlier that day which had affected their performance against BKT.
"I think there's an element of unpreparedness that came from all the Chinese teams," adds commentator Trevor 'Quickshot' Henry. "It felt like they were playing each other, not the rest of the world. The picks and bans reflected it, their limited understanding of lane swaps was indicative of that. The European lane swap is now the standards, even the Korean teams today were doing it."
Deft actually talked about the difficulty of predicting lane swaps (the movement of characters from one lane of the map to another) from teams outside the Chinese professional league.
So What About Today?
Today Edward Gaming will be fielding Koro1 in place of AmazingJ but whether that and the practice the team has put in between group stages and the quarter-finals can counter back problems, lane swap prediction issues and defeats affecting the next game remains to be seen. But then Fnatic aren't a sure thing either.
"Both teams are also quite swing-y in their play, so truthfully it can come down to mindset on the day," says Quickshot. "It can come down to who had the better breakfast, who got more high fives. It really could just be who is more focused when they rock up.
"The one thing that does play into Fnatic's favour is they will have that crowd so against EDG. It's a blessing and a curse because it not only theoretically disheartens EDG but it also applies pressure to Fnatic so we'll see."
Worlds will be streaming on various formats so you can pick your favourite here from 2pm BST. BBC Three is also offering live coverage.