London team confirmed for Overwatch League
London calling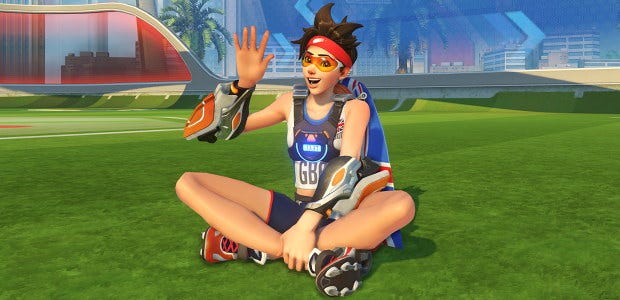 eSports organisation Cloud9 will represent London in the Overwatch League [official site], Blizzard have confirmed. The team won't have an official stadium until after 2018, but when they do I'm envisaging half-time pies, coloured scarves and chants of Overwatch is coming home, it's coming home, it's coming etc etc (I know that's not accurate at all, but it's the first England-specific football chant I could think of, okay?).
They're the first European team to be announced, and were confirmed alongside a team in LA – the city's second – that will be owned by the Kroenke Sports & Entertainment group, who own Arsenal FC and NFL team the LA Rams. It takes the total number of teams for the game's official eSports league to 9 following the announcement of 7 teams across the US and Asia last month. The competition is due to start later this year.
When I wrote about those first seven teams I got a few comments that Overwatch was unwatchable as an eSport because of its chaotic nature. I've watched a bit of the ongoing World Cup qualifiers and I think that's a fair criticism: teams spend a lot of time building their ultimate abilities (super powerful skills that can turn the tide of a match) and then unleash them all at once. But I still enjoy it, and I think part of that chaos will go away when casters get better at explaining exactly what's going on (now it's often them shouting "Oh... oh my god...huge play!" rather than talking it through).
So, I'm quite excited for the Overwatch League, and may well get myself down to a few games for the London team. But with no stadium set up there might not be any games in the city for the time being. PCGamesN report League commissioner Nate Nanzer says home and away games will start "as soon as possible", but that he warns "there's a lot that goes into" hosting matches. So, let's see on that one.
There's no requirement for the London team to have British players or anything like that but, according to PCGN, Cloud9 founder Jack Etienne says he wants to "develop the UK scene". Here's a bit on why he chose London:
"[We] went through the positives and negatives of each city and I kept coming back to London as the place that I felt has been underserved in eSports. It's a fantastic city, with an amazing metro population, fantastic transportation to get people to events, and I saw this as 'hey this is where Cloud9 needs to be'. We already have a massive fan base in Europe and England specifically, so it just makes sense."