Snoop Around A Grand Budapest-y Hotel In Maquisard
Free snoop 'em up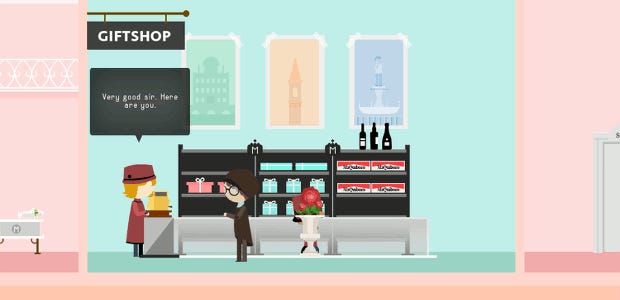 Maquisard [official site] takes snooping out of its usual world of shadows and form-fitting leather into the colourful setting of a swanky Grand Budapest Hotel-inspired establishment. Playing as a bellhop working with the resistance, the free game has players stealthily spying on hotel guests, their behaviour and habits, to figure out which one is an undercover agent.
You get to sneak around carrying a flower stand to duck behind. Oh yes.
Here's how it goes: a member of The Resistance tells you one of your five guests is a government agent, and they want you to find them. They don't know which, but they do know a few of their defining traits: they're wealthy, cowardly, clumsy, romantic, and fond of the vices.
So off you go, observing guests and trying to eliminate the suspects. Someone happily hanging around near bees in the rooftop garden isn't cowardly, for example, while you can tell a clumsy person from how they knock over vases as they brush past. Other traits can be observed or ruled out by following them around, listening at their door, eavesdropping on conversations, and so on. You might need to be stealthy though, hiding being potplants as they'll stop to call you a rude little oik if they see you lurking.
You get a little notebook to mark the traits, so as your allotted three days roll on your notes fill up with ticks and crosses to whittle the list down. And then... I don't know, due to a little foolishness from me, I lost my save just as I thought I'd rumbled the agent. I was delighted with what I played, though, and I think you might like it too.
Made by a team of students at the New York University Game Center, Maquisard is a pay-what-you-want download (with no minimum) from Itch.io.
[Disclosure: Robert Yang, who did Level With me for us, teaches at NYU Game Center. I've no idea whether this is connected to him or not.]