MOO! Master Of Orion Reboot Leaves Early Access
IT'S GOT WORF IN IT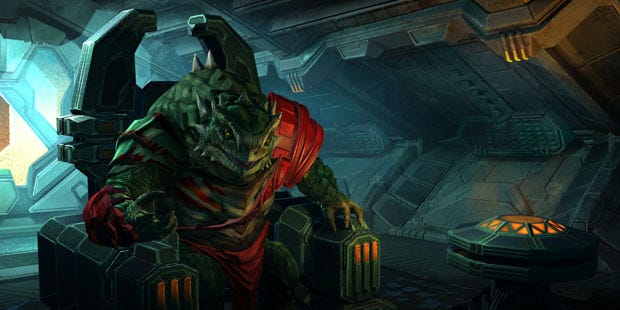 If that seems a familiar title, it's because our last story about sci-fi 4X remaequel Master of Orion [official site] was headlined "MOO! Master Of Orion Reboot Enters Early Access". I thought it only right to symmetrically bookend this tale, if only to please some weird compulsive part of my brain when I look at the tag page. Sadly though, that means I have omitted two vital pieces of information from the headline 1) you get a free copy of Total Annihilation if you buy MOO 2) IT'S GOT WORF IN IT. Also Luke Skywalker but WORF.

WORF. THE DORNINATOR. How did I not know this? Any road: Master of Orion leaves early access and becomes a full release on August 25th. There's also a near-double price Collector's Edition which has a digital art book, soundtrack, 'retro pixel ship skins', a new race and copies of all three original MOOs."
Somehow, we have not offered OPINIONS about nu-MOO during its six-month mission through early access. Blame conference season, basically, but we'll be sure to chuck some thoughts on the full version at you post-haste. Promised is that it will both appease old hands and be accessible to newcomers, that no two games are ever the same and that we'll get Mark Hamill and Alan Tudyk as well as cuddly old Worf.
Full release is Aug 25th, but you can grab the early access version now from Steam or GoG. If you want your free copy of seminal 1997 tiny-tank'em-up Total Annihilation, you need to link your copy of MOO to a Wargaming account. The setting for that is in the options menu, apparently.