Blastoff! Master Of Orion Leaves Early Access
Goin' on a galaxy quest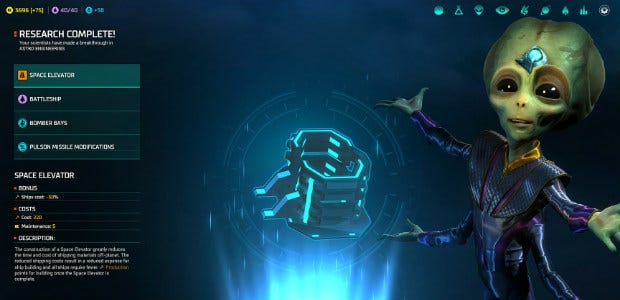 Master of Orion [official site] released in full this week, leaving early access with a launch day patch to ensure things got off to the right start. It's a revival of Simtex's original interstellar 4X strategy games, and was developed by NGD Studios under the watchful gaze of some of the series' initial development team.
Rather than a pure remake, Master of Orion stands on its own with a fresh story and updated mechanics. Players will compete to explore and spread their influence across the universe, either negotiating with new alien races or conquering them.
NGD went all out, hiring some impressive voiceover talent for the game's ten races, including Alan Tudyk and Mark Hamill (don't worry, they saved room for Troy Baker, too). Master of Orion also features customizable ships and over 100 unique galaxies, to help keep it fresh.
Master of Orion also got a launch day patch adding an intro video and making some much needed improvements to the AI, along with some other balancing work. Nab it on Steam or GOG for £22.99/29,99€/$29.99. If you're really dedicated, the team's also made up a nice Collector's Edition that comes with the original three Master of Orion games, the official soundtrack, an artbook, and some in-game goodies, including the ability to play as the Terran race.