Maybe Games Just Aren't For Telling Great Stories?
And fridges aren't for driving.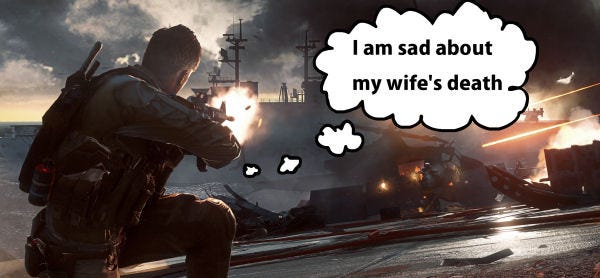 During all of the recent conferences for the forthcoming consoles, a refrain is repeated by all involved. When they boast of their new technology, their graphical improvements, their breakthrough achievements, it always seems to be said that it will provide enchancements in storytelling. New ways to connect emotionally with the player. "To tell stories in a far more powerful way."
I'm fascinated that this is the angle they choose. Not just because it's the most disingenuous, but because it seems like it's the last thing their core audience appears to care about. It seems like trying to sell a speedboat based on its lovely coffee holders. Yes, it has coffee holders, but most people are buying it because it goes fast over waves without sinking. Who of the Modern Warfare generation is buying games for their groundbreaking ability to tell stories?
The temptation at this point is to get all sneery and superior, looking down on those inferior lot who enjoy manshooters. Two problems. Manshooters are often great, and haughtily refusing to enjoy the good ones is stupid. And what exactly is it we're holding aloft as an example of storytelling done right?
There are games whose stories I've enjoyed a great deal. I immediately reach for The Longest Journey, Deus Ex, Planescape Torment... um... and then I start to struggle. And the most recent of those was 2000 - thirteen years ago. Then there are dozens more games whose narrative has entertained me fitfully from beginning to end, the likes of Beyond Good & Evil, Saint's Row 3, Dragon Age, GTA 4, and so on. And there are those games that merely have a narrative structure - something I often find important to motivate me to play, no matter how generic or predictable it may be.
But of these, which do I hold up as great examples of literature? Honestly? None. That's not to demean the best of them - stories from games have genuinely changed my life, moved me enormously, altered my thinking in significant ways. But if gaming's ultimate goal, from both technology and development, is this spurious notion of "storytelling", then it's doing a pretty poor job.
I'm not just talking about the soul-draining tedium of game after game being described as massive steps forward for innovation, imagination and narrative, and then featuring a gun bobbing at the bottom of the screen. I'm talking about an industry that heralds David Cage's puerile homages to cinema as its masterworks.
My thought is whether this matters at all. Perhaps it's time for us all to just accept that games aren't ever going to be home to classic works of literature - it's not what they're for, and it's not what they're ever going to achieve.
Clearly whenever people make direct comparisons between games and books, or games and film, they're inevitably poorly conceived arguments on unbalanced ground. Despite an industry that endlessly purports to be more "cinematic" with its greater emphasis on "connecting emotionally with the player", these are gaming's largest weakness, and rather stupidly fail to celebrate its greatest strengths.
Games are magnificent at, well, being games. The word "interaction" is hideously over-used, and for me at least immediately conjures images of Microsoft trying to get me to use my Surface tablet in conjunction with my Xbox One to choose my fantasy water polo team while watching CSI: Bournemouth. And "greater interaction" inevitably means waggling your arms about in front of a camera like a drunken aunt on a dance floor. But it remains that the ability to interact with events is what makes gaming distinctive from all other media.
Games have their own unique way of letting a story become more meaningful because you're directly involved in it. But oddly, this isn't the sort of story that's discussed. This isn't the goal from those stage-boasts. They have stories they want to TELL YOU, and the tech will enable them to TELL IT TO YOU more than ever before. It, in the end, becomes the equivalent of book publishers excitedly announcing they've found a way to write the letters bigger in books, and made the pages easier to turn. The result of this thinking is the dirge of arse-following shooters that plague the industry, so utterly fixated on TELLING YOU their story that it's either portrayed in cutscenes, or when the controls are taken away from you.
"THEN THE PLAYER LOOKED OVER TO HIS LEFT AND SAW THE BUILDING FALL OVER!!!" goes the story, before cutting to a man with some stubble looking grimly forlorn at a graveyard. EMOTIONS. But look! These emotions are more emotiony than ever before, because the crinkles in his eyes crinkle more realistically than previously technology could crinkle. The single tear coming out of his eye comes from Fully Functional Tear Duct Technology™, uniquely created for this month's iteration of gaming devices.
It allows the comparative "proper" narrative games to shine alongside them. But to do so without ever reaching greatness themselves. For years I've lamented this, decried the failure of this medium to mature to a point where it can match literature and cinema in terms of intelligence in design. (And to be clearly, yes, most books and movies are terrible - we're talking about comparing the very best.) When is gaming, I would ask, going to find its great stories? I believe I was wrong to ask.
Gaming isn't going to. It's had plenty of time to prove that. And I don't think it's necessarily a failure of developers at all. Maybe games just aren't the right place for it? That's practical: authors can take years to write their novels - something that wouldn't be possible in game development cycles. And it's perhaps pragmatic: the nature of interaction simply prevents great storytelling, and we should all accept this.
This isn't to say we shouldn't demand better. It is still right and proper to lament the dreadful writing that appears in so many games, the cavalcades of clichés that plague us, the generic grunting tedium that most creators seem to think will do. But perhaps we should be setting our sights lower, reducing our expectations, and letting games get on with being a medium that simply isn't going to provide us with wonderful story.