Medal Of Honor + Linkin Park = Huh?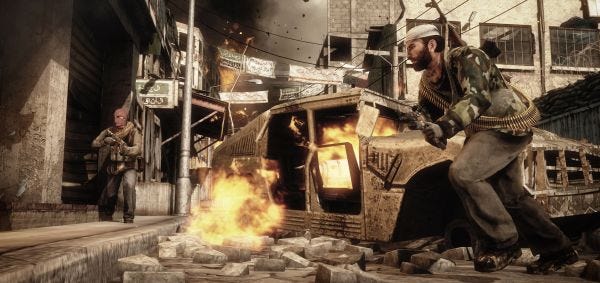 Sure, while they're all playing Starcraft II the rest of us have to find something to do. How about grumbling at a band? Did you even know Linkin Park were still going? It was only this afternoon that I was ranting at my poor, disinterested girlfriend that it's a travesty that Linkin Park were ever so popular, while no one's heard of Idiot Pilot. Silly singy/shouty pop plop. Well, apparently I'm completely out of the loop, as EA's response to Modern Warfare, the relaunching of Medal Of Hono(u)r, is to feature Linkin Park's new single, The Catalyst.
Well, now you want it, right? The single comes from their next album, A Thousand Suns, which is due out in September. The single comes out 2nd August, and it seems a trailer for Medal Of Honor will also appear that day, directed by the band's turntabler Jo Hahn, accompanied by the full length version of the song. Then the song will appear in the game, due out 12th October.
So we can look forward to Medal Of Honor, a game we're assured is being "developed in collaboration with U.S. Special Operations soldiers," featuring pleas to know why "My life just so fucking hurts right now." And perhaps as we watch the soldiers dying brutal deaths we'll hear a screamed explanation for why his heart just really aches right now. Then a man will rap about how his feelings aren't being recognised by either his girl or his friends.
So here's the teaser for the trailer/single (I've watched it twice, and both times I managed not to notice the song - but then I'm old.)
And by way of an apology, here's some Transplants: