Mega Man 11 and the Mega Man X Collection are coming to PC in 2018
It's almost too mega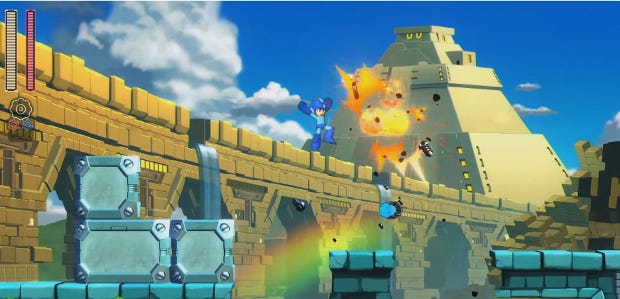 Every iteration of Mega Man passed me by until I got myself a SNES Classic Mini yesterday and properly played Mega Man X for the first time. It's quite good, so I now find myself craving more. Good news, then! All eight games in the Mega Man X series are coming to PC next year. They'll be joined by a brand new game: Mega Man 11.
Mega Man 11 is part of the original series that kicked off with the first Mega Man in 1987. The Mega Man X series, on the other hand, started in '93 with the launch of the SNES and is set in a different era with a different protagonist. Including spin-offs, there are seven Mega Man series. Yeah, it's confusing.
There was also a previous Mega Man X collection. It launched on consoles in 2006, but contained only 6 games. Most of the games in the X series are 2D action platformers like the original series, with the exception of Mega Man X7, which made the leap to 3D. It wasn't well-received, prompting the sequel to go back to the basics.
Mega Man 11 will be the first proper Mega Man game since its predecessor, Mega Man 10, which launched in 2010. Set 30 years after the first game, it sticks to the traditional 2D running, jumping and shooting that the series is best known for, though it trades 2D sprites for 3D characters and objects on a 2D plane. Take a gander at it in action below.
The Mega Man X Collection is due out in the summer, while Mega Man 11 will launch in late 2018.