Mel Of A Time: Avalanche's Mad Max Open World Game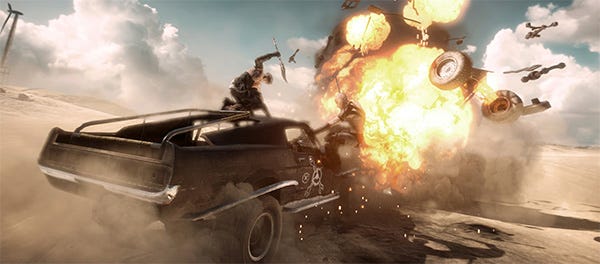 The makers of sandbox destruction classic Just Cause 2 + the quintessential movie wasteland setting? Yes please! Er, just one thing... Could you maybe not involve World's Worst Human BeingTM Mel Gibson? It'd kind of put a downer on things.
Fortunately, Warner make no mention of Mr Sugar Tits in their blurb about the game they're calling simply Mad Max, and it's also unclear as yet whether this relates to the original Max Max / Road Warrior films, or the upcoming, Bane-starring reboot called Fury Road.
Never mind, let's have a CGI trailer and think about what Fallout With Cars might be like, eh?

Watch on YouTube
"Scheduled for release in 2014, Mad Max will deliver dynamic, open-world gameplay where gamers fight to stay alive in The Wasteland, using brutal on-ground and vehicular combat against vicious gangs of bandits. Players are challenged with treacherous missions as they scavenge the dangerous landscape for supplies to build the ultimate combat vehicle."
Out on PC, the dusty old toyboxes, the expensive new toybox and the outrageously expensive new toybox*. Tina Turner DLC is TBC.
* Hilariously, a man went apeshit at us on Twitter the other day because he felt personally offended by our long-running consoles/toyboxes joke. He's the real Mad Max here.