Spin It To Win It: Messhof Release Flywrench
After many years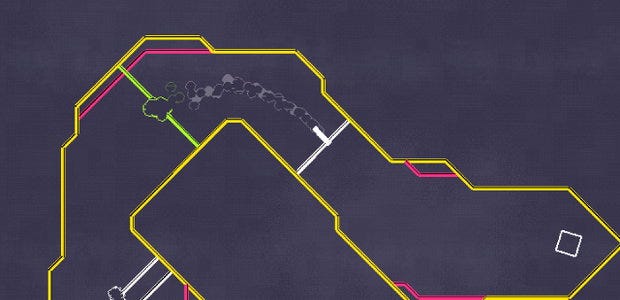 The best I came with my last attempt to describe Nidhogg dev Messhof's new (old) game Flywrench [official site] was "it's like Kuru Kuru Kururin or Roundabout but not spinning and more a platformer but without platforms or Swift*Stitch with flopping and colours." Honestly, I think I'd struggle to reach even that low level of usefulness today. That's fine, though - you don't need me any more.
Following a 2007 free prototype and a 2009 Kickstarter, the full version of Flywrench is finally out on Steam so you can see for yourself.
As I tried to explain last time, Flywrench is a twitchy platformless platformer, where you need to negotiate a 'flywrench' through a series of colour-coded gates. Its movement abilities, like flapping and bouncing, also change its colour, so you end up quickly making course corrections while trying to be the right colour to proceed through the course and beat the level.
It has over 170 levels and leaderboards so you can show your pals who's best, plus a level editor to make your own courses and share via the Steam Workshop.
Flywrench is out on Steam for Windows and Mac. It'll usually cost £6.99, but a launch week discount makes it £6.29.
[Disclosure: The musician who "curated" Flywrench's soundtrack, Daedalus, once performed at an event I helped run then crashed round ours after. I shan't tell the panty raid story again.]