Ah, Memories! Might & Magic Heroes 7 Revisits HOMM4
Throwback Friday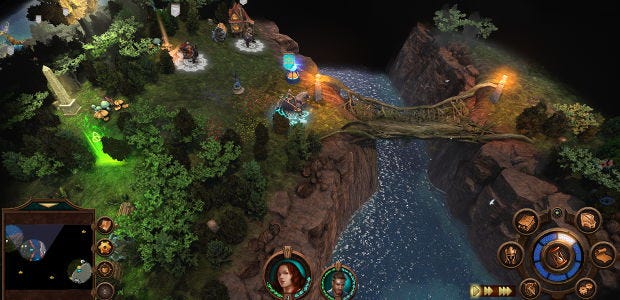 Might & Magic Heroes VII [official site] may be a bit of a disappointment, but Limbic Entertainment have kept plugging away at it. Now it's kinda sorta maybe a bit-ish like Heroes of Might & Magic IV, if what you liked most about HOMM4 was its story? MMH7 has added a new free mini-campaign penned by HOMM4 (oy, these changing names!) writer Terry B. Ray. It's based on an old script written for HOMM4 long ago, and Limbic are working on a second free add-on based on another.
The Lost Tales of Axeoth: Unity jumps back to 2002 (how time flies!) in a five-map campaign playing as the Academy faction, including new (old) heroes, new legacy artefacts, and even some HOMM4 music.
That's nice and all, but check out this ridiculous collection of words about what's coming in the second Lost Tale campaign, Every Dog Has His Day:
"Players will take control of the Stronghold faction across 3 maps, and more specifically the barbarian hero, Dogwoggle. At the height of his career, Dogwoggle was one of King Kilgor's barbarian generals, but he soon learned that Kilgor was quite mad and leading the world of Enroth toward destruction. Having managed to flee to Axeoth, Dogwoggle now finds himself hunted by his former allies. As it turns out, Dogwoggle might be slightly responsible for the end of the old world..."
DOGWOGGLE! KING KILGOR! DOGWOGGLE! Fantastic.
Every Dog Has His Day was previously due in "early 2016", but back then Unity was due in "late 2015" so evidently things are running behind schedule.
Patch 1.7 is also now out, bringing a few tweaks and fixes.
DOGWOGGLE!