Minecraft: Windows 10 Edition Announced
Cross-platform play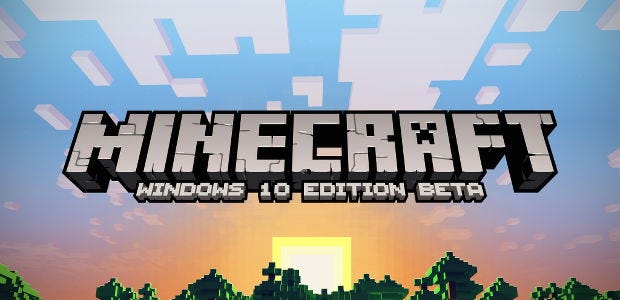 A new version of Minecraft [official site] based on the Pocket Edition is coming to Windows 10, Mojang have announced, but ye olde traditionale Java version will continue to be updated for the foreseeable future.
Cross-platform play with the Pocket Edition on other platforms is the main big draw, but it'll have problems too - mod support is uncertain at this point, for starters. Still, the Java version will continue to exist. If you're curious, the Minecraft: Windows 10 Edition will launch in beta alongside the launch of Windows 10 on July 29th.
The announcement was made over the weekend at Minecon in London, which also saw the first trailer for Telltale's Minecraft: Story Mode.
Minecraft: Windows 10 Edition is basically the Pocket Edition that's been drifting around pocket telephones and tablets for a few years. These bring mean a few unfortunate limitations. Online play will be limited to eight people, Mojang's Tommaso Checchi explained in a Reddit post, because "there isn't a dedicated server right now." Obviously it won't support Mac and Linux either but hey, there's the Java version for that.
Support for mods may also not come, and mods are a pretty big part of Minecraft. "Mod support is hard because C++ is not as reverse engineerable as Java, plus many stores don't allow those kind of mods," Checchi explained. "But we're definitely looking at it!" It will support resource packs changing textures, though.
It does run faster too.
When the beta launches on July 29th, folks who already own Minecraft on PC will be able to get in for free. For others, it'll be discounted to $10 until it properly launches. Features will be added over time, such as that cross-platform play support.
If you don't want any of this, hey, the Java version will still work just fine. "This version is not meant to replace PC!" Checchi stresses "PC will be PC at least until this other version will be moddable in a very good way." He did say that'd be nice if they could have one single cross-platform version on everything, but that's a dream, not a plan.