Mirror's Edge - Catalyst Slips From February Release Spot
Keep Faith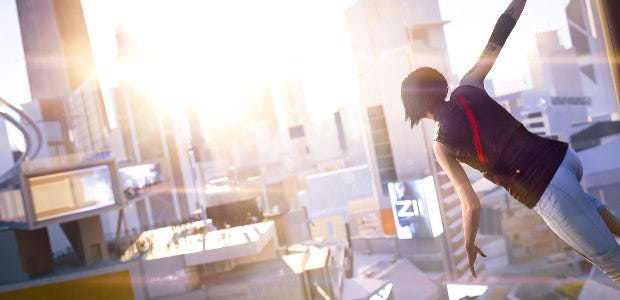 If you had Mirror's Edge: Catalyst [official site] in the Big Game Delay Sweepstakes, step up to the podium and claim your prize. Previously set for release on February 23rd, the same day as Far Cry Primal and Deus Ex: Mankind Divided, the continuing adventures of Faith have been pushed back to May. DICE are still sticking to a specific release date - May 24th - and say that the delay is down to their desire to make the game "as entertaining, impressive, and memorable as it can be".
The full statement from senior producer Sara Jansson is packed with the kind of reassurances you'd expect when a release date is pushed back this far ahead of launch. DICE want a few extra months to make the best experience possible, in short.
"Years ago, we set out an ambitious vision for Mirror's Edge Catalyst. Achieving that vision and delivering the best possible experience is equally inspiring and challenging. And it takes time. We set out to create a vast city to explore, full of stunning vistas, majestic skyscrapers, and mysterious tunnels. We're building the most immersive action-adventure game with fluid movement and combat in first person. Mirror's Edge Catalyst will be an all-new playground with a deeper and more engaging story - and we want to accomplish all these goals to the highest quality possible."
Our Graham reckons they're off to a good start with all those lofty ambitions. He played the game earlier this year at Gamescom and described it as a "relief". As a fan of the original, he was concerned that something wouldn't feel quite right, but I remember how excited he seemed about the momentum-based takedowns when we were talking about the game later that day. He wrote about that here:
"Mirror's Edge Catalyst keeps combat but ditches the guns. Instead you take down enemies with your hands and feet and the skill required is the same maintaining of momentum that you're practicing when traversing. In the presentation I saw, the plot necessitated everything to get heated and Faith to make a daring escape from the skyscraper she'd just climbed, and almost every enemy was positioned either beside a wall or pole you could use for an acrobatic kick, or in front of a plate-glass window so you could knock them through it."
I am broadly in favour of kicking baddies out of windows.