Modern Warfare 3 Will Launch At Some Point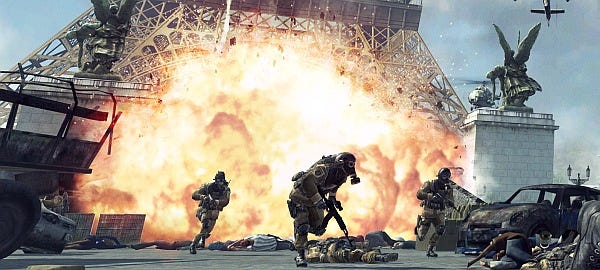 There's a launch trailer floating about - it's been around for a few days now, but it's still not out for another couple of weeks - for a game called Call Of Duty: Modern Warfare 3. Whatever that might be.
This is, of course, the first game in the official Modern Warfare franchise not to be made by the original team at Infinity Ward. Instead it's a joint effort of the IW leftovers, Activision's go-to supply developer Raven, and the Dead Space veterans-containing Sledgehammer Games. With the CoD B-team, Treyarch, only working on the Wii version of this one, it's essentially a new staff on what is unquestionably the biggest FPS franchise in the world. As they so immodestly point out in the trailer below:
What does it mean when a launch trailer appears two weeks before the game is launched? It means the world's all messed up. I also like the classy sting for 360 on the end there. Fuck you, PC and PS3 gamers!
Now everyone below write angry comments about how you hate this game, and secretly check if your pre-order is still there.