More Like Fear Esther: Homesick Hits Steam
Boo!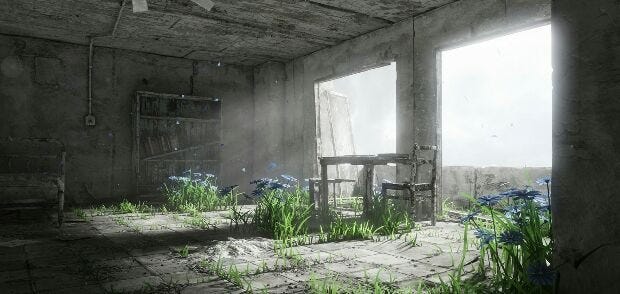 A couple months ago we mentioned a game called Homesick [official site] - A kind of Dear Esther-like, moody first-person explory puzzle thing. Here's a handily placed link.
The game's a beauty. Homesick is set in an apocalyptic world, a bleached out towerblock; Running in Unreal engine, the player is tasked with exploring the weird, bleak ruination. But there's an undertone of horror there too.
"To some extent, it's a metaphysical take on Gone Home," wrote Our Alec, "making a virtue of the absence of the absence of people and leaning towards architecture-as-personality. Layered on top of this are nightmare sequences, hints of terrible events in the background and an instantaneous-flower-growth-as-progress mechanic. There's also a whole lot of metaphor there, not always entirely subtly, and far more overt misery and horror overtones."
You can see what he's talking about in the video below. Or alternatively, you can see for yourself: Homesick is now available via Steam for $14.99.