Motorsport Manager Coming To PC With Sega
Managing zoomcars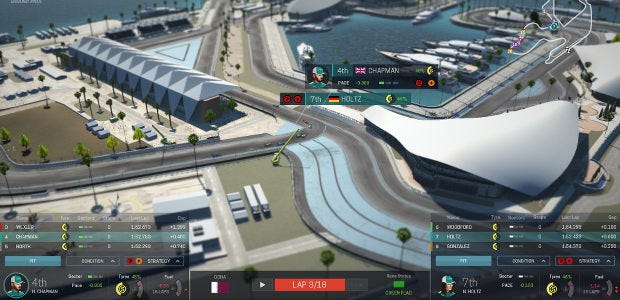 Sega are expanding their line of sports management games beyond ice hockey, kickyball, and Waaagh! to include racecars too. Today Sega announced Motorsport Manager, a PC spin-off from the pocket telephone game of the same name by Playsport Games. Honestly, I do question defining this as sport, considering that the cars have to do all the running - the so-called 'sportsplayer' just sits on the car's back to stroke its antenna and whisper encouraging words if it starts to panic.
Motorsport Manager will cast players as the boss of a racecar team, having them hire drivers, come up with race tactics, breed their own cars using technology, and all that. Here, I'll turn you over to Sega for a chunk of words:
"Experience the persistent world of motorsport in Motorsport Manager, populated by an ever-shifting variety of teams, drivers, engineers and mechanics to be hired, fired and competed against on your way to motorsport immortality. Design and build your car from scratch during pre-season with highly detailed design options that give you the freedom to produce components tailored to specific race conditions and then hone their stats in your factory for optimum performance. Change the infrastructure of the sport itself and vote on rule changes year-to-year that will see you give your team the edge they'll need for success. See your hard work unfold in the beautifully realised 3D race engine in a fully immersive race weekend taking you through practice, expanded qualification and full length races and make the split second decisions needed to ensure your drivers see the chequered flag first. "
Motorsport Manager is due in September for Windows, Mac, and Linux. Sega say that Playsport "have built an all new Motorsport Manager experience from the ground up" and yup, this looks like an interface designed with PCs in mind: