Vroom! Motorsport Manager free to play for a week
Zoom zoom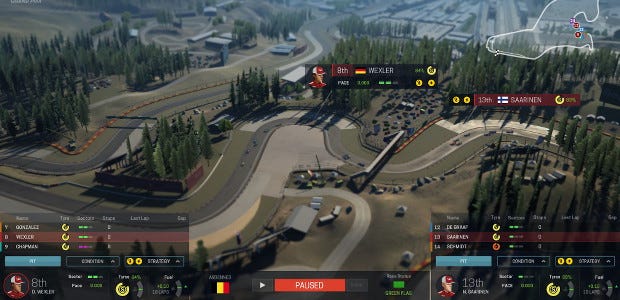 The full version of Motorsport Manager [official site] is free to play until Monday, giving plenty of time to check out Sega's first foray into being a carboss. Our Adam's a Football Manager fan and quite enjoyed his time with the PC adapatation of Playsport's racecar management sim, so you might fancy a crack too.
You can download Motorsport Manager through Steam for Windows, Mac, and Linux. The trial will run until 5pm GMT on Monday, March 27th, as will a 50% discount for those who want it for keepsies. That brings it down to £12.49/17,49€/$17.99.
Here's a chunk of Wot Adam Thought:
"I'm unlikely to be hooked on Motorsport Manager for the rest of the year, as will be the case with Football Manager, but that's mostly because I don't particularly care for real life racing. It's far from impenetrable if you don't understand the sport itself though and the pit stops are a more immediately responsive tactical instruction than anything in Football Manager, which gives a good sense of direct control. Success is hard-won, a process of long hours developing headquarters and parts, as well as finding the right staff, but failure can be the result of a momentary loss of control or courage."
Since launch -- and since Adam's Wot I Think -- a fair bit has been added to Motorsport Manager in updates, including a laptop-friendly 2D mode and mod support.
As I look now, the most popular mods include tweaking game systems like weather as well as adding real cars and liveries from real motorsports like Formula 1 and NASCAR. Or you can drive a '91 Fiat Panda.