Music And Maps: Europa Universal IV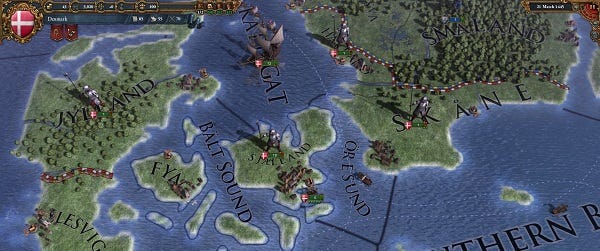 We are approaching the historical strategy event horizon. I've been playing Civ V all weekend, exploring the Brave New World expansion, which has sucked me back with all the effectiveness of a vacuum cleaner in a black hole, triggering a late night Michael Corleone impression that left my flatmate concerned for my wellbeing. Then there's Rome War: Total: The Second, which threatens to march into my life on September 3rd and conquer all of the free time that remains. There won't be a great deal of free time because on August 13th, Europa Universalis IV arrives. I might as well say goodbye to the world for the rest of the year. Several developer diaries and songs below. Paradox really do like their songs.
Tech is first up:
A side order of religion:
Finally, for dessert, exploration and colonisation:
It's to my eternal shame that I haven't already shared this song about prestige. It's a thing of beauty, a love song about complex mechanics in a grand strategy game. It's almost certainly one of the most important songs ever recorded.
And here's Casus Belli and a musical behind the scenes video.