(Near) Futurama: SimCity Expanding Into Tomorrow
Futurological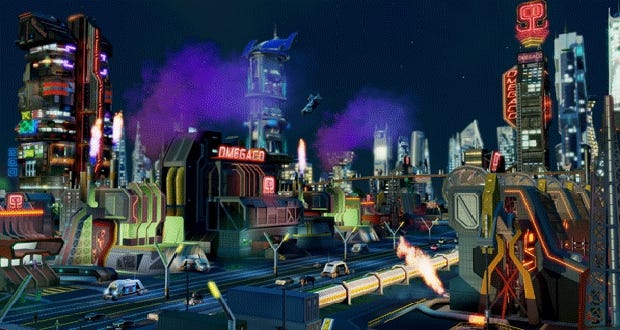 NEWSFLASH: SimCity still isn't very good. It mostly functions now, but that doesn't mean it's particularly deep or enjoyable. But time has healed part of a wound, so maybe more of it will stitch up the rest? That, I suppose, is the idea behind upcoming expansion SimCity: Cities of Tomorrow, which takes your buzzing metropolis 50 years into the fuuuuuuuuuture. Will this bring it forward (or, I suppose, back) into the Good Ages? Time - as ever - will tell.
For now, Maxis isn't going too far into detail about what the expansion will include, but here's the gist:
"What will cities look like 50 years from now? Better yet – how will they be constructed? Do you want to build a beautiful, clean technology-driven city that relies on the knowledge of the all-knowing Academy? Or maybe a city consumed by the gluttony and consumerism of the OmegaCo? Or maybe a little of both? How you decide to transform your tomorrow is all up to you."
Apparently that will include new forms of transportation and power, tall-enough-to-poke-god/you-in-the-eye MegaTowers, and probably also other words awkwardly combined to form shiny, awe-inspiring FutureNouns.
SimCity: Cities of Tomorrow will be out on November 12th. Is anyone excited about this in the slightest, or do we all know better by this point?