New Cradle Footage Gently Rocks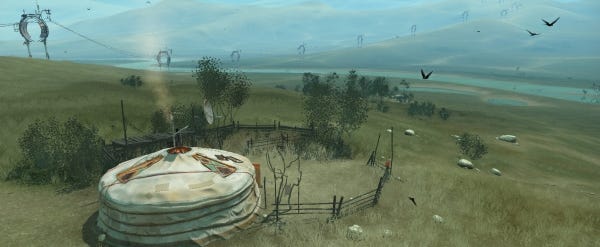 I realise now that attempting to put into words what's happening in Cradle's trailer is impossible. It doesn't allow for easy interpretation. The developers, Flying Cafe for Semianimals, are making a game with the sort of internal logic that defies simple analysis, raising unanswerable questions, in a Myst or Witness vibe, although Cradle does seem more connected to our world than either of those. There are some facts: it's a first-person adventure game where you and a broken mechanical girl are left in an isolated yurt (tent thing) in the Mongolian hills. You're putting her back together, hunting her body parts in the ruins of a nearby amusement park.

The video is fascinating and packed with detail: the world seems full of objects to manipulate, or scan with a futuristic magnifying glass. See, I already feel like that's not doing it justice. That there's so much more lurking, waiting to be uncovered in the colourful world and I'm far too removed from it. It reminds me of a happy Amnesia in a sunny Stalker. Watch.
Expect it on PC by spring this year.
Via Blues News.