Offblast! No Man's Sky Patch Brings Fixes Aplenty
Helpful?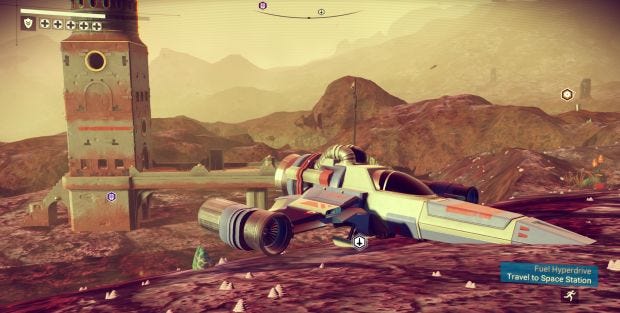 No Man's Sky [official site] developers Hello Games today released a new patch for the open-galaxy explore 'em up, bringing what they're calling "our largest set of fixes and tweaks". Expect crash fixes, bug fixes, and yes, that problem with players who pre-ordered not learning the hyper-drive blueprint is now solved. Looking ahead, they say once the game's ship-shape they'll look to "improve, expand and build on" it.
Go check the patch notes to see if your particular problem is solved. No, you daring wits, this will not help with expectations, but it will make exploring more pleasant for the folks who are playing it.
Hello Games have also posted a small development update.
"No matter what feedback you gave us, you have been heard and we are listening carefully," they say. They explain that they've brought on a "support/community management team", which seems about a month late, and are busy fixing raised issues "in order of priority". They continue:
"What matters now, as always, is what we do rather than what we say. We're developers, and our focus is first on resolving any issues people have with the game as it is, then on future free updates which will improve, expand and build on the No Man's Sky universe.

"This is a labour of love for us, and it's just the beginning."
RPS doesn't have An Official Stance on NMS - nor do we on anything, beyond the fact that "video games" is two words and so help me god John I'll replace your fingernails with spacebars if I must. While Brendan felt let down and John was often frustrated, I know John has been pootling around and carving dreadful faces while Pip has whipped out her virtuacamera to snap vistas and animals.
Me? I presently have no time for anything but Devil Daggers so my stance on No Man's Sky is mostly that I get annoyed when my Devil Daggers time is sapped by needing to keep an eye on comments threads as they risk getting physical. I see you.
[Disclosure: RPS's own Alec Meer wrote some words for No Man's Sky. I don't know which words. Given that I'm sure Alec is slightly afraid of me, it seems unlikely he'd ever try to influence me with coercion or force. But god, wouldn't you love to see him try? Make my day, Meer.]