Night Crawling Sky Shooters: Solar Wings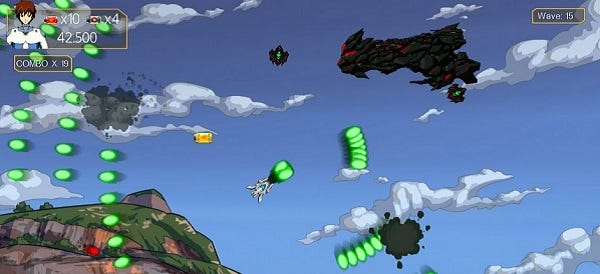 While it doesn't appear to have a personality to match the mad brilliance of Jamestown, recently released Solar Wings is a handsome SHMUPPY thing in its own right. Cheery waves of enemies, colourful bullets fanning across the screen and a co-op mode are all enough to tickle my fancy. Is it my imagination or are we seeing more of these on PC in recent times? It could simply be that I've started paying more attention to them, upon realising that I'm capable of lasting for more than five seconds amidst the scrambled madness on the screen. Turns out not every pack of bullets wants to create a tightly patterned hell for me. Available now for £1.99/€2.49, the developers reckon they'll have a demo to offer soon. Look to the land below for a trailer.
I'm guessing I wasn't the only person reminded of Solar Winds by the name. Probably not the only one who wants to go play it either, despite the fact that the glasses I'm wearing are probably entirely made of roses.