Night In The Woods wins IGF Grand Prize
AAAAAAAAGH!!!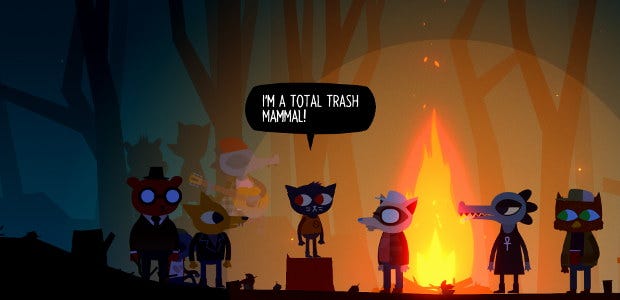 Rad trash mammal simulator Night In The Woods scooped this year's Grand Prize during the 2018 Independent Games Festival Awards at the Game Developers Conference last night, also lifting the award for Excellence In Narrative. Baba Is You, an upcoming puzzle game about shifting words to change how parts of the levels and game work, also picked up two awards. Looking across all the winners, ah yes, there certainly are good video games going around.
Excellence in Visual Art ($3,000)
Chuchel (Amanita Design) - see John's review for more praise.
Excellence in Audio ($3,000)
Uurnog Uurnlimited (Nifflas Games)
Excellence in Design ($3,000)
Baba Is You (Hempuli)
Excellence in Narrative ($3,000)
Night in the Woods (Infinite Fall) - see John's review, and it was one of our favourites of 2017
Nuovo Award ($3,000)
Getting Over It with Bennett Foddy (Bennett Foddy) - another of our 2017 faves
Best Student Game ($3,000)
Baba Is You (Hempuli)
Audience Award ($3,000)
Celeste (Celeste Team) - read Adam's review for further praise.
ID@Xbox Gaming for Everyone Award
SpecialEffect - the charity
alt.ctrl.GDC Award ($3,000)
Puppet Pandemonium - oh god I am slightly afraid of these puppets
Seumas McNally Grand Prize ($30,000)
Night in the Woods (Infinite Fall)
For references, all the nominees are over here. I've grumbled before that the IGF Awards rarely turn up many surprises and often seem to play it safe, but hell, this also speaks to how much more known and accepted 'indie' games (whatever the hell that even means these days) are these days - which is great. But also the choices can be a bit safe. But they're real good games too! Some smashing video games.
If you fancy a go yourself, a number of the winners and nominees are going cheap in a special sale on Steam right now.
Last night's awards ceremony was livestreamed, and is preserved here: