Night Rider Turbo Is The Surgeon Sim 2013 Of Driving
Absolutely smashing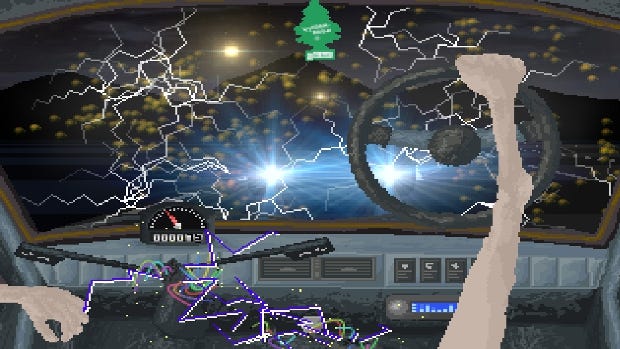 AAAAAAAAAAAAAAAAA *BOOMSMASHWHAMCARSEVERYWHERE*
GOTTA STEER, GOTTA STEER, OH JEEZ OH JEEZ OH JEEZ *steering wheel pops off* NONONONONONONONOOOOOOOO
WELL MAYBE MY FINAL MOMENTS WILL AT LEAST BE ACCOMPANIED BY PLEASANT MELODIES ON THE RADIO *accidentally tears off radio* WHHYYYYYYYYYYYYY
The plot of Night Rider Turbo is simple: "Badass bought a shitty car. Everything falls apart. How far can you drive?" Predictably, the answer is "not very."
The free browser game, which heralds from the alluringly silly (and sometimes a bit juvenile) mind of McPixel creator Sos Sosowski, is basically Surgeon Simulator 2013 if it were a driving game. You control one arm while your other remains coolly perched on the window sill, dangling ever-so-slightly over the ledge as if to say, "They should make leather jackets that are just for arms. Sunglasses too."
Those, it quickly becomes apparent, will be your left arm's final implied words given that traffic is fast and furious, and every (fully functional) piece of your car is liable to shatter at the gentlest touch. Also, you're not particularly graceful. Wrench a turn too hard? There goes your steering wheel. Want to shut off your emergency lights? Too bad; the button really didn't like the way you were looking at it. Oh, but hey, you flipped on your windshield wipers while flailing and sweating and weeping everywhere. That's kind of an accomplishment.
Survive for as long as humanly possible (which, again, is not particularly long) and then try again. And again and again and again. Night Rider Turbo will amuse you, your friends, and pets/grandparents of all ages for a decent 15 minutes or so. It's goofy, well put-together for what it is, and free. Give it a try here.