Ninja Edit: Vlambeer Clone Tycoon
Fish in a barrel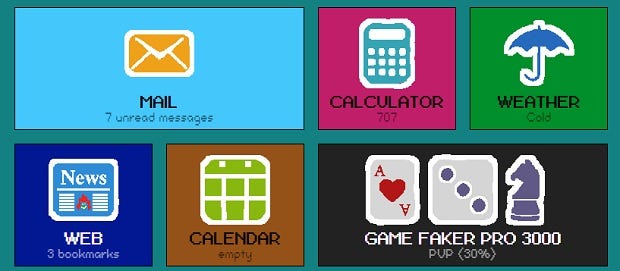 Vlambeer's Ridiculous Fishing has been a deserved success but while its precursor Radical Fishing was still in development, a game called Ninja Fishing appeared on the Appstore, which cloned Vlambeer's structure, replacing fish-blasting with Fruit Ninja's slicing. To commemorate that moment and (presumably) to coincide with the Android release of Ridiculous, Rik Nieuwdorp and Martijn Frazer have created Vlambeer Clone Tycoon, a browser game about monitoring gaming websites to look for new ideas to copy and sell.
The aim of the game is to pick out Vlambeer's ideas and copy them before they are released. It's a simple process, not as involved as Game Dev Tycoon, but there's plenty of humour to be found in the news stories that crop up during the course of the game. In fact, a Vlambeer Clone Tycoon gamejam might well produce some entertaining results. Who wouldn't want to try Robot Hunger or Blood Verbs, with its focus on 'adaptive music'? And then there's Drive Away Fast, a puzzle game that UraGamer rated 10/10 for graphics but only granted 0.5/10 in their overall verdict.
I am the worst Vlambeer Clone Tycoon ever because I spend so much time reading headlines such as "Is Porking Meter Turning Our Children Into Snake-Obsessed Killers?" that I don't spend any time actually cloning games. I only just noticed that checking the weather forecast causes a month to pass in-game, which makes this as much a general procrastination simulator as a spoof of unsavoury industry practices.
As for Ridiculous Fishing itself? I bought it at the weekend, now that it's finally available on Android, and it's as weird and joyous as I'd expected. Vlambeer seem to have picked through the free to play scene, extracting every hook and then blowing the common IAP-fuelled progression structure to smithereens. There's no need to accelerate progress, except by playing and improving, because almost every trip reveals something new and the three activities that make up the game are fast and challenging rather than unpleasant millstones to grind against.
When the Ninja Fishing incident was fresh, Vlambeer had this to say about cloning:
"We should't attack cloning. We shouldn't try to take down clones. We should approach it from a contructive perspective.

"We should improve game literacy, and build a foundation for creativity. We should offer insight into the game design process, talk about design in depth.

"We should protect open development. The logical response to this is keep your cards close to your chest, so that no one rips it off. But we should show people that making our game is something we struggled with for months"
Go forth and make games with Casio soundtracks. Or play Vlambeer's latest, Nuclear Throne, and write some beat poetry of your own.