NITE Team 4 Is A Hacking Sim With A Demo
Can a hacking game stand out?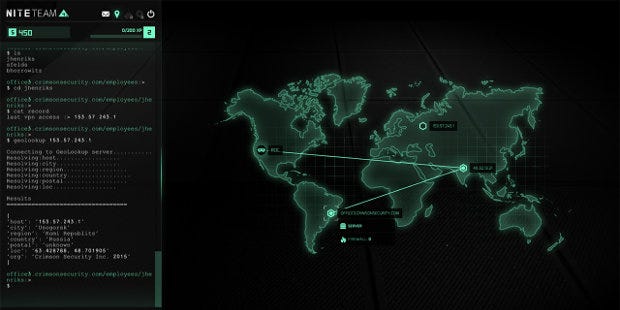 Panic ensued in Castle Shotgun when a press release arrived quite unlike like the others. "I work for Alice & Smith, developers of The Black Watchmen Alternate Reality Game." Alice! Our Alice? And Smith! But which Smith? An ARG? Suddenly, distrust filled the room. The tension was palpable. You could taste it in the tea.
Alice & Smith went on to present NITE Team 4 [official site], a zo set in the same universe as their ARG. It has a free public demo, but who could be trusted to report the truth? Who would be ready to betray their friends, in case the truth demanded it? Alice and both Smiths denied any involvement. Of course they would. That's what guilty people do. After a heated discussion, they agreed to let an outsider investigate. That's where I come in. Except someone stopped me in my tracks, just when I was starting to have some fun. We may never know the truth.
NITE Team 4 is still in alpha, but you can download its demo for Windows and Mac.
During its first levels, NITE Team 4 doesn't stand out from many other hacking sims. It immediately reveals itself as a puzzle game dressed in real or realistic commands and terminology. You play as the agent of an NSA-like organization, with a simplified command interface, black and green color scheme, and most of the cliches of the romanticized hacker life.
This alternation between realism and accessibility is at times quite jarring: they want to use real codenames, but they can't use them without explaining what they mean, so you'll find a mission objective that will tell you to conduct a "target exploitation" and then add in brackets "TAREX." Same goes for the mini-games, like the one pictured above: they stand-in for the parts of hacking which may actually be hard to both perform and represent. You need to literally traverse walls of "fire", in a cyber-reinterpretation of Frogger, to "exploit the firewall", and it's really immersion-breaking if you care about this kind of thing.
Of course, the first levels of this kind of game will often be similar to one another, and it's hard to tell if they will come together in interesting ways later on, when the missions can afford to be more complex. But what could make NITE Team 4 stand out from the competition are the missions in which you need to collaborate with agents on the field, helping them infiltrate building, retrieve data, sabotage targets or plant eavesdropping equipment.
Unfortunately, a bug prevented me from progressing past the third mission in the demo, so I didn't get to play any of those, if they're at all included. The game is still in alpha, so bugs are to be expected sometimes, but I know this bug was planted to prevent me from finding the truth. We may never know what really happened. We may never solve the ARG.
Look at them. Really look at their mugshots. What is Alice hiding behind her glasses? What is Graham hiding behind his beard? What is Adam so interested in, that we can't see? They're all suspects. We can't trust any of them.