Norton But Nice: Clean 'Em Up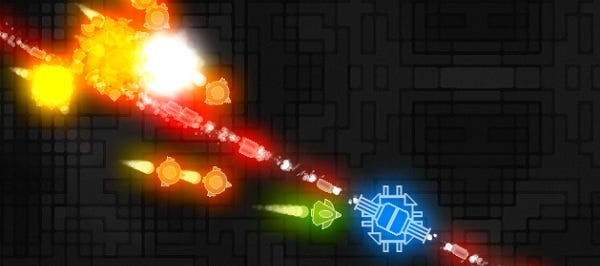 Clean 'Em Up is a neon-drenched twinstick shooter and the first commercial release from Amidos, an Egyptian indie developer. Although it's unlikely to surprise anyone who has played anything of this sort since Geometry Wars pointed the way toward the abstract, Clean 'Em Up has a pleasing variety of guns to attach to either your front or your rear. Thematically, your front and rear belong to a particularly belligerent antivirus program, careening through hard drives and shooting all sorts of viruses before they can infect files, making them attack, zombie-like. There's a decent variety of enemies and herding them makes for a less frantic experience than in the brilliant but Adam-crushing Waves. There's a demo here, the full game's on Desura for £2.99 and I've concealed a trailer below.
The virus zapping set up reminds me of a game I played ages ago, probably back on Windows 95, which was based on the same idea, but it actually found pictures on your computer and used them as infected files. You were shooting actual things that existed and that you had put on your computer! I thought it was quite magical.
And, no, I'm not thinking of that one game that actually deleted the files that were destroyed in game. Was that even a real thing? I think an infection is devouring all my memories today and, yeah, I could search for them but I'd rather see if anyone else remembers. You are all my Google.