Nvidia GeForce RTX 4060 Ti review: the big middle of graphics cards
It's AI and performance-per-watt, not pure FPS, that make the RTX 4060 Ti a worthy mid-range GPU
I'm sure you're all bored of reading about how about how expensive RTX 40 series graphics cards are; I'm certainly bored of writing about it. Thank the Nvidia GeForce RTX 4060 Ti for its mercy, then – assuming you can find one at RRP, it's the first of its family not to plonk a price premium over the last-gen equivalent. And even though it's only moderately faster than the RTX 3060 Ti in most games, its efficiency improvements and DLSS 3 support ensure the RTX 4060 Ti keeps some crowd pleasing potential.
As, indeed, it should. The RTX 3060 Ti and RTX 3060 endured the absolute worst of 2021's GPU shortages to become the two biggest 30 series hits, so keeping their successors affordable was the right move. To that end, the 8GB RTX 4060 Ti starts from £389 / $399, more than the £289 / $299 RTX 4060 (due in July) but less than its planned 16GB version (also in July, for $499).
Spend a bit more and you can get a fancy partner card like this, the MSI GeForce RTX 4060 Ti Gaming X Trio. I've used this for all the game benchmarks you'll find further down, and although it's not as cheap as the RTX 4060 Ti Founders Edition (nor as compact - I had as much trouble fitting this in my mid-tower case as the RTX 4070 Ti Gaming X Trio), it does include a wonderfully quiet triple-fan cooler. And it doesn't at all compromise one of the RTX 4060 Ti's less visible strengths: outstanding efficiency.
The GPU's power usage maxes out at just 160W, 40W less than the RTX 3060 Ti despite being a more prolific producer of frames per second. And when playing games, you're likely to be using even less, so while the RTX 4060 Ti isn't any cheaper to buy than its processor, it will be more economical in the long run. It should make upgrading from an old system with a small, sub-600W PSU easier as well. Even this customised MSI model needs just a single eight-pin power connector, and as someone that's spent probably too much of his life down on his knees, painstakingly inserting up to four plugs into the bulky, sometimes melty adapters that higher-end Nvidia cards now use, this was a welcome change.
Nvidia GeForce RTX 4060 Ti review: 1440p benchmarks
Granted, the general performance difference between the RTX 4060 Ti and RTX 3060 Ti isn't as sweeping. It's a decent upgrade, to be sure, but at native 1440p the new GPU never truly gets out of sight. Outside of Horizon Zero Dawn and Watch Dogs Legion, the RTX 4060 Ti rarely looks like upsetting the pricier RTX 4070 as well.
(I've changed our benchmarking games a bit since the last time we had the 30 series GPUs to hand, so please excuse any absences...)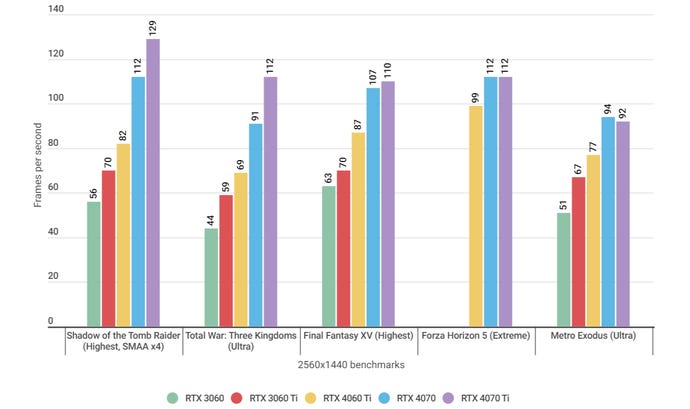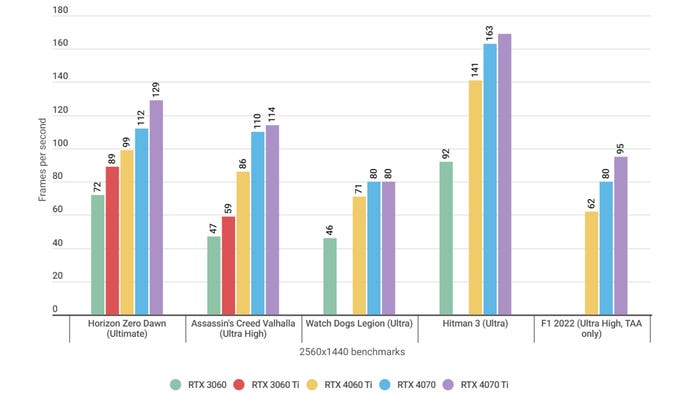 Still, there are good signs here . The RTX 4060 Ti is much better than the RTX 3060 Ti at clearing the 60fps threshold, which makes a difference when you have a high-refresh-rate gaming monitor. And if you like to bring a calculator to your graphics card shopping trips, you've probably already clocked that performance-per-watt is going to be drastically superior than on the thirstier RTX 3060 Ti.
Both GPUs can use Nvidia DLSS to give themselves a boost in supporting games, but the RTX 4060 Ti also has the advantage of DLSS 3 and its frame generation feature. This lets it ramp up framerates far beyond what you could get with upscaling alone: in F1 22, for example, that 62fps average became 121fps with both Quality-level upscaling and AI frame generation. Simply enabling Upscaling would bump it up to 92fps, while non-upscaled frame generation would get it to 94fps, but the two together can produce framerates even higher above the RTX 3060 Ti's abilities.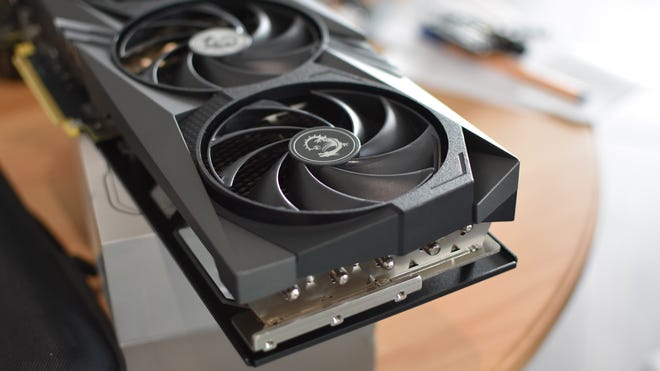 DLSS 3 also allows the RTX 4060 Ti to avail itself of some of the most intensive ray tracing features around. Cyberpunk 2077, running at 1440p with Ultra quality and Psycho RT effects, only averaged 24fps at native res – but with Quality DLSS and frame generation, that becomes 65fps. And while the AI-generated frames don't make games 'feel' smoother, as true, rendered frames would, these settings still handle well as the upscaling component is raising rendered frame output from 24fps to 46fps on average.
Nvidia GeForce RTX 4060 Ti review: 1080p benchmarks
This upscaling flexibility helps make the RTX 4060 Ti a perfectly capable 1440p card, though if you're more into speed than pixel density, you could deploy it as a powerful 1080p engine. If your CPU is on a similar level to our test PC's Intel Core i5-11600K, you might find gaming performance sometimes comes close to that of the high-end RTX 4070 and RTX 4070 Ti, which is about as positive a spin on bottlenecking that I can think up.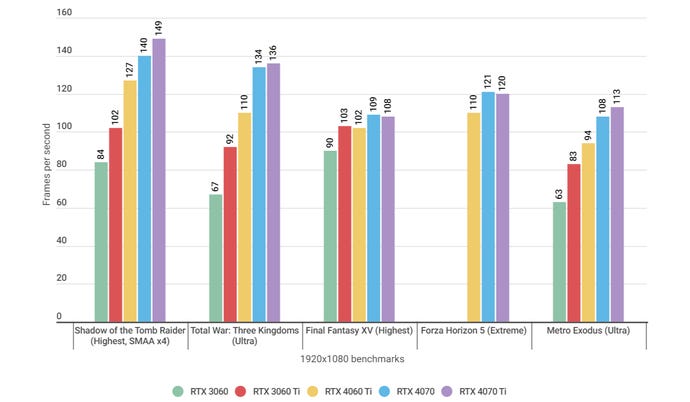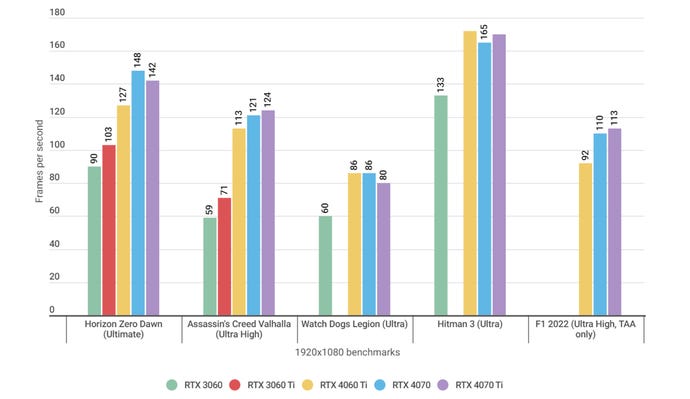 At the same time, native performance still doesn't make great strides ahead of the RTX 3060 Ti – with the exception of a very good Assassin's Creed Valhalla result, and perhaps that of Total War: Three Kingdoms as well. Metro Exodus only benefits to the tune of 11fps, and you'd need to invest in a more powerful CPU to separate the two in Final Fantasy XV.
Again, it's up to DLSS 3 to truly make the RTX 4060 Ti feel like a next-gen graphics card. Which, in fairness, it does: Cyberpunk 2077, on Ultra quality with Psycho ray tracing, jumped from 41fps to 65fps with the sole addition of frame generation. That's impressive as it is, and the same settings can go all the way to 113fps with Quality upscaling as well – though this is less advisable than at 1440p, as the drop in sharpness becomes more noticeable.
F1 22 ran smoothly without the AI-powered bells and whistles, averaging 92fps with Ultra settings and basic TAA, but this too shot up to 139fps with non-upscaled frame generation. This really is a marvellous feature, and I'm glad that the less costly RTX 40 GPUs are getting it alongside the more premium models.
The only problem is that we're still in the early days of DLSS 3 support. I count 30 currently-available games with a working implementation (31 once The Lord of the Rings: Gollum releases later this week), so as good as it is, the amount of value you'll extract from frame generation directly correlates with how much of your library overlaps with this very small collection.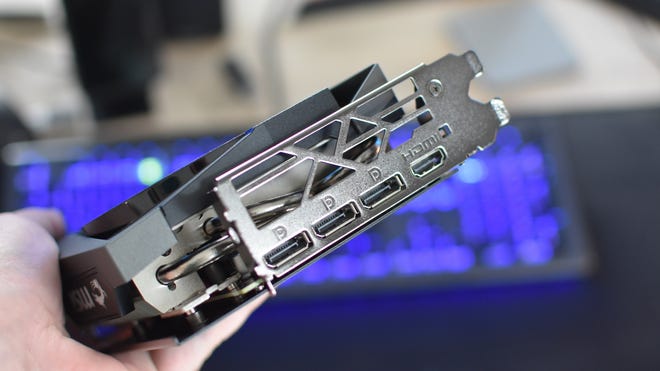 You could think of the RTX 4060 Ti as an investment in the future, when its trump card can be played more readily, but as it stands… you probably shouldn't upgrade to it if you already have a decent RTX 30 series card, including the RTX 3060 Ti. In most games, which don't even have ye olde DLSS 2 support, the performance difference just isn't going to be what you'd want from a generational replacement.
On the other hand, if you're coming from an older GPU, like the RTX 2060 or even a Radeon RX 5700, the RTX 4060 Ti is easily the better choice for superfast 1080p and 60fps 1440p. It's not meaningfully more expensive than the RTX 3060 Ti, ultimately still is faster in general, uses much less power, and has a better-equipped toolbox for making extra FPS gains. We can grumble about deltas until the Sun burns out but in this case, an upgrade is an upgrade, especially when it's being spared from the usual price rise.
---
This review is based on a retail unit provided by MSI.