Oddworld: Abe's Oddysee is free right now on Steam
FART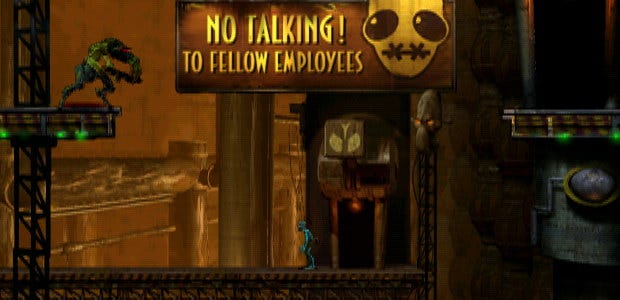 Even in these days when we have so very many wonderful free games to play, it's still a little exciting to be offered for free a game that usually costs money. Today, it's Oddworld: Abe's Oddysee going free for keepsies. Free! No pennies at all! And only twenty years after the puzzle-platformer first came out and I missed it because I bought Blade Runner instead. Well well well, looks like I was savvier than I knew. Gotta take the long view, yeah? I bet anyone who bought Oddworld in 1997 feels a right mug.
Hit Steam and you can grab Oddworld: Abe's Oddysee for free for keepsies. This offer is only a short one, ending--I believe--at 6pm UK time on Friday. After that, it'll go back up to the STAGGERING price of £2.
Do you have the guts to free Abe's alien pals from being turned into snacks at the slaughterhouse where they're enslaved?
Yeah, 's not a huge giveaway and it has been free before, but 's free now, yeah? I know Oddysee has its fans, as does its farting protagonist - though our Brendy will tell you Abe's Exoddus is when the devs really got it right.
This giveaway is to promote a big sale on all the Oddworld games, including the New 'N' Tasty remake of Abe's Oddysee, the revamped Stranger's Wrath HD, and Abe's Exoddus at 80% off.