Oldworld: Oddworld New & Tasty On PC Next Month
Abe's Re-Odyssey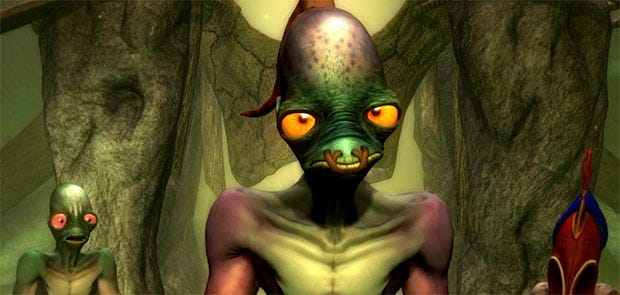 My main memory of the Oddworld games is some guy at university uproariously demonstrating that you could make the main character fart or burp or something. Brilliant. Later that day, he threw up while helping to push a friend's broken car around the corner, and it was then that I realised for the first time that a life spent almost entirely indoors playing videogames was not a sensible one. (A lesson I guess I subsequently forgot). Hence, I associate Oddworld with an extremely unfit man's grey, watery vomit. Sorry, Oddworld. Maybe I can form new associations by playing the remade, modernised 'New & Tasty' edition, which is headed to Steam on February 25th.

Why is it new? Why is it tasty? Graphics, silly. Well, not just graphics. This is apparently a 'ground-up remake' of the 1997 sci-fi platformer starring a telepathic alien attempting to free his people from a grim life of slavery and butchery, rather than a straight-up remastering. New engine (Unity), proper screen-scrolling, more variety to the original's renowned speech aspect, some smoothing of the notorious difficulty curve, and generally a slicker experience.
In theory, anyway. The PS4 version was rather well-received last year, and hopefully the same will be true of the PC edition. We'll find in a month and a half.