Off The Grid: Distance Available 9th Dec
Cyber racing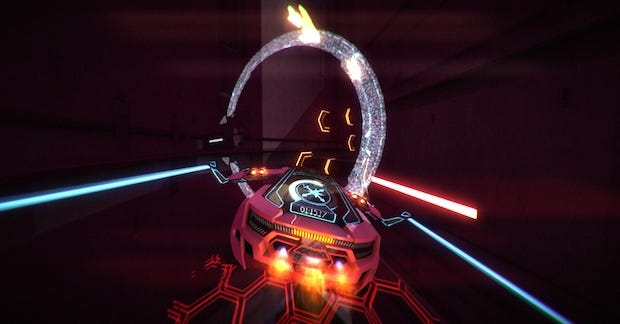 French electronic music duo Guy-Manuel de Homem-Christo and Thomas Bangalter often wear large shiny helmets to make up the sound of Daft Punk, headgear that often remind me of French firefighter Gallet F1-SF helmets. I like to think that they are not in fact firefighters in the future, but CYBERRACING CAR drivers just taking a break to chill in the club and create some sweet beats for assorted dancingpeople.
Distance is the sort of arcade racing game you imagine Daft Punk procured their snazzy helmets from - the developers claim it's Trials Evolution + Rush 2049 + Halo + Tron: Legacy, and it's out on Steam Early Access on the 9th of December on Windows, Mac and Linux.
The 'experimental' arcade racer Distance is the brainchild of Refract, a company formed of former classmates who created arcade racer Nitronic Rush at DigiPen Institute of Technology, which was super popular with us games-playing types. This is what Nitronic Rush looks like:
Using boost, wings, and jump mechanics, the idea was to avoid obstacles that the city throws at you. You can actually still download and play the game for free over here if you'd like a taste of Distance's predecessor. The soundtrack is also available, which does a good job setting the cyberpunkesque atmosphere.
Then the team Kickstarted Distance, a fully fledged spiritual successor to Nitronic Rush. As before, it's about boosting, flying, twisting and jumping through various atmospheric city obstacles. The developers also explain that the adventure mode is about uncovering the world's mysterious history, and as you explore you'll be able to uncover pieces of its past.
But obviously a singleplayer mode where you play a lonely neon car-detective is not entirely what we're here for. The multiplayer side offers LAN, online, and split-screen across modes like capture the flag, stunting, and plain old racing. A Jordan (aka TORCHT) dynamic soundtrack will also be supplied.
I'm into it, if only so I can utilise this damn Netrunner cyberpunk playlist I made, because I was damned if I was bringing a Netrunner deck around the world with me on my weird world travels.
Incidentally doesn't this French firefighter's helmet look a bit Daft Punk? Are Daft Punk meant to be firefighters that got lost in a club? I don't even understand France any more.