Wizened Wanderer: Old Man's Journey
Take a look at your life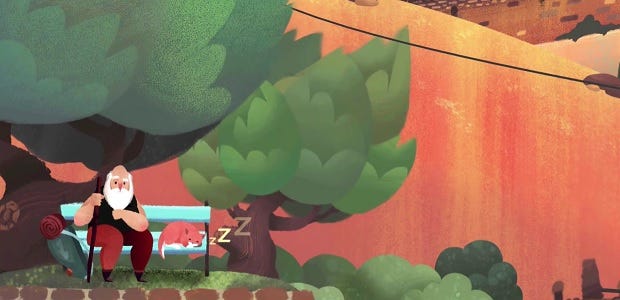 How I long for a tourist simulator (Pokemon Go doesn't quite count) and with Old Man's Journey [official site], Vienna-based Broken Rules may be making just that. Announced late yesterday, it's a game about wandering "sun-drenched, rolling hills" and it looks absolutely gorgeous, as you can see in the trailer below.
If I look at that as nothing more than a visual treat, I want to see more of it immediately. I'm not very good at doing that though because even as my eyes are having a little party, my brain is turning to other matters. What manner of game will this be? Will I be tapping/clicking on the cat to see a canned response, and pressing on doors to either open up new, lovely scenes or to watch a painfully slow animation as the old fellow hobbles around the streets and finds the door locked? I don't know.
I don't even know if the game will be on PC for sure. It hasn't been confirmed for any platforms yet. And Yet It Moves and Raetikon, both from the same studio, did have PC versions so I expect this will find its way across even if it launches on tablet.
And if it turns out to be Samorost but with an old man taking a holiday down memory lane, that would be a splendid thing.
We'll find out when it's released next year.