Old Time Hockey brings blood to the ice next month
sticks and pucks may break my bones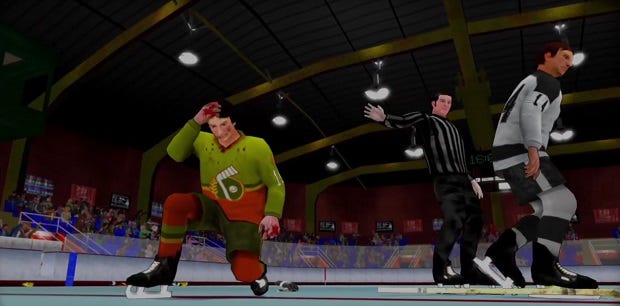 Of all the sports simulations, hockey is the one that makes me think, "god, remember when hockey games used to be fun?" I haven't played one for ages, so for all I know EA's NHL series has more excitement than you can shake a not-so-jolly stick at, but it's the speedy, punchy games of old that my mind conjures up when I think about hockey. Games like Old Time Hockey [official site], which isn't actually old at all. It's so not-old in fact that it isn't even released until March 28th. It looks great, as you can see below.
Now that we've established that Old Time Hockey is in fact a future game, let's figure out where that 'old time' moniker comes from. It's the style of game, isn't it, all that Megadrive era arcade-y style sticks, pucks and punch-ups? There's that, but the bush league antics of the teams also looks determinedly old-fashioned. No glossy sponsorships here, just aggression and winning by any means possible.
"Experience hockey the way it was meant to be played in this old school arcade style hockey game where blood on the ice is just another day at the rink. 70s afros, big moustaches, no helmets, dirty hits, bench-clearing brawls, goalie fights, stick fights, ref abuse and locker room language – that's Old Time Hockey. Players in this league live by one simple rule - Never look at the puck, just take the body. Timely hits are crucial in this dangerous sport where getting on fire is the difference between winning and losing."
And look at this list of teams:
Schuylkill Hinto Brews - Pottsville, PA
Fort Edward Bluenosers - Windsor, NS
Long Island Rumrunners - Commack, NY
Quebec Voyous - Beauce, QC
Charlestown Stonemasons - Charlestown, MA
Warroad Ice Anglers - Warroad, MN
Cascadia Timber Cats - Seattle, WA
Portage Lake Widowmakers - Houghton, MI
Moose Jaw Farmhands - Moose Jaw, SK
Cobalt Silvers - Cobalt, ON
I can't decide if I want to take charge of the Warroad Ice Anglers or the Moose Jaw Farmhands. Either way, there's a league mode as well as multiplayer, and even a story mode.