On The Ledge: Penny Arcade Ep 3 DLC & 4 Inbound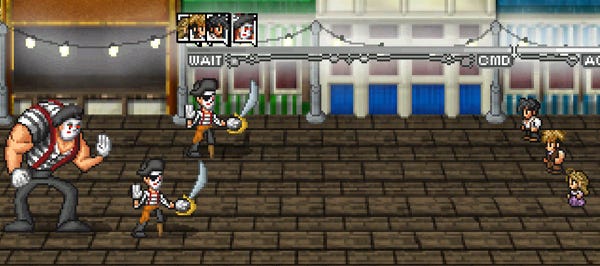 The increasingly incongrously-named Penny Arcade are to continue their Zeboyd-developed series of roleplaying adventures, both with a fourth game and a pair of free expansions for the well-received third. The second DLC for On The Rain-Slick Precipice Of Darkness Episode 3 will apparently detail the fate of the character you/we/I/he/she/they/it/your mum played as in the first two episodes of the abandoned Hothouse-developed trilogy. Closure of a sort, then.

Before that is 'The Lair Of The Seamstress', whose release date may be announced at PAX Prime next month. Again, both these DLCses will be freeses. That's it, that's all we know about 'em. Rumours that players will be able to pay to remove all logos from the title and loading screens are, as yet, unconfirmed. Of the fourth game, diddley-squat is known bar a claimed 2013 release date on the site. Oh, and enthusiasts of portable mobile technology will be pleased to hear episode 3 is headed to phones, tablets and, for Galaxy Note owners like myself, phablets, at some point soon.
Here's the trailer for the third game proper once again, as otherwise I'll feel bad about only include a single paragraph underneath the 'read more' thingy. Other sites don't care about that sort of thing, you know. That's why they're getting lumps of coal for Christmas.