Online Outlined: Paradox Connect Announced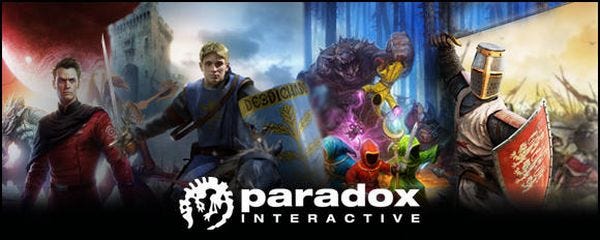 Paradox Interactive, publisher of Crusader Kings, Europa Universalis, Magicka, Mount & Blade and many other fine PC-exclusive titles has announced its very own online networking service will be entering beta later this year. Entitled Paradox Connect, it's designed to give Paradox fans more of an online identity, with achievements, a virtual gamer card and an online collection of their games.
Paradox has stated the move is absolutely not a form of DRM since the whole service will be entirely optional, and that it ties in with a shift in the company towards online games and downloadable content. They also say that if you buy Paradox's games on Steam, the achievements will be making an appearance as Steam achievements. Bandwagon jumping then, but a leisurely, sensible kind of bandwagon jumping where the bandwagon comes to a complete stop and lowers an access ramp first. Full press release after the jump, and an interview with Paradox CEO Fred Wester coming up next week.

And just between you and me, Fred also said that the company was interested in designing their Achievements with creativity and a sense of humour. That's always nice to hear.
Paradox Interactive today announced Paradox Connect, the umbrella brand for all of Paradox Interactive's online activities. Customized for Paradox users and games, Paradox Connect creates a seamless experience between in-game play and between game sessions.

Paradox Connect will be effortlessly integrated within the central hub of the Paradox community – the forum. Players that already have a forum account will automatically be a part of Paradox Connect.

Being connected to Paradox Connect means being able to take part in a host of new game experience enhancing features. Besides the forum, Paradox Connect will naturally be connected to other social media where the Paradox community can be found such as Facebook and Twitter.

The first feature of Paradox Connect to be introduced is Paradox Achievements – Players will be awarded points and rewards for great feats in Paradox games.

"We're really excited about adding achievements to our games" Says Fredrik Wester, CEO of Paradox Interactive. He continues; "Our gamers are amongst the most dedicated out there and achievements are a great way to reward that dedication. Besides, our games are really well suited for achievements and the completionist gamers. I bet we'll have an achievement for conquering the world as Tibet in Hearts of Iron 3, and those who manage to get it will want to showcase it. With Paradox Connect they'll be able to show their friends who really is the greatest strategist."

Achievements will be the first of many gameplay benefits Paradox gamers will enjoy via Paradox Connect.

Paradox Connect is scheduled to start its beta cycle in Q4 2010.