Pew Pew: DayZ Creator Releases Out of Ammo
Boom!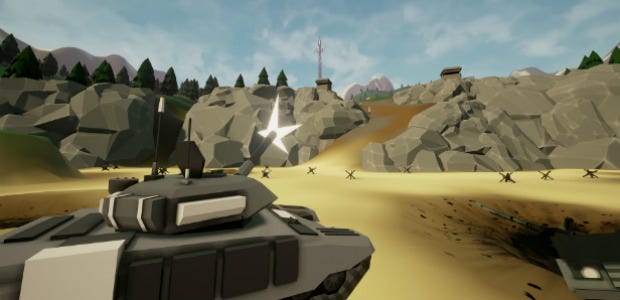 RocketWerkz' VR project Out of Ammo has tiptoed into official release with very little fanfare. It's quite sneaky for a game about leading little LEGO-esque soldiers into combat, guns a-blazin'. Out of Ammo has been an experimental attempt at VR for Dean Hall's (DayZ) fledgling studio. It's a strategy game that has you building up defenses and directing units as they head into battle, and controlling them yourself in first-person view if you want. See it in action in the launch trailer:
Alec tried it out for himself in early access and seemed to enjoy it well enough. RocketWerkz say they will continue to support the game after launch, with a series of free and paid content updates.
That's not the only thing RocketWerkz has up their sleeve. They're working on a brand new 'AAA' game that has yet to be announced. Dean Hall told our friends at EuroGamer that the game will be multiplayer, and that the team is looking to break new ground in the multiplayer space by creating new genres. That's about all Hall was willing to say on that project.
In the meantime, we do know that multiplayer space sim Ion is definitely in the works. It was announced at E3 2015, but since then news has been sparse.
You can find Out of Ammo here on Steam for £14.99/€19.99/$19.99.