Outcast 1.1 Brings HD Support To The 57th Best Game Ever
Performance boost and UI fiddling too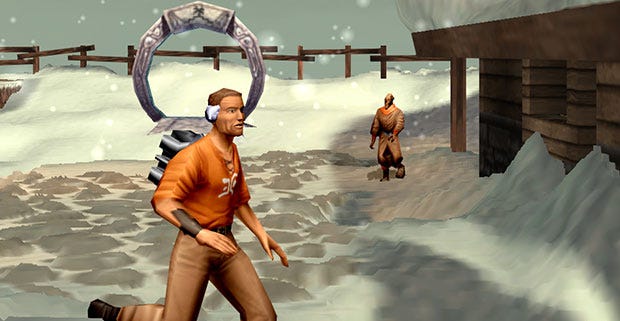 I guess it's sad that the Outcast HD Kickstarter didn't work out, but 'New Game From The People Who Made X' tends to excite me more than 'Hey Here's X Again.' Hopefully we'll hear of a new project from devs Fresh3D before too long, but in the meantime there's been a surprise gift: Outcast 1.1, overhauled from the source code to support higher resolutions and multi-threaded rendering. The much-loved, if adorably shonky, openish world action-adventure gets another day in the sun after all.

It's a standalone 'new' title available on Steam now, costing £4.79/$5.99, with a GoG version due at some point too out now - and unlike the Steam version, existent GoG copies get updated to 1.1 for freesies.
As well as the resolution (very important, given previously the game was locked to teeny tiny pixel counts) and threading stuff, there's an overhauled UI and controller support.
I.e., everything we ever really needed from an Outcast remake.
I've had a quick look, and while me and my big monitor are disappointed the resolution tops out at 1920x1080, it looks really rather nice. Click on this, and on the screenshot right at the top of this post, for a high-res version:
Not exactly 2014 graphics, but nice. Liberated from the blocky edges and general fuzziness of the original version's limitations, there's definitely a sense that we're finally seeing the game as it was envisaged. (I'm not hitting 60FPS, tending to hang around 40FPS instead, but not sure this game benefits hugely from it anyway.) None of the art is different, beyond the sky paintings, but the crispness really redeems it.
Be warned that the controls are still insane out of the box, but you can change 'em.
Here's the full list of what's been fiddled with:
multithreaded voxel renderer for higher performances
software bilinear filtering on polygonal meshes
partial redesigned of the HDU to match higher resolutions
new high-resolution sky paintings
revamped launcher
native support of xbox and DirectInput gamepad
user-friendly controller configuration
selectable voices and subtitles languages
a myriad of bugs fixed
improved stability
There have been a few mini-patches since it came out last Thursday, so we may yet see more improvements still.
What a lovely thing to happen. And just in time for Christmas too. Every time a bell rings, a voxel-powered game gets higher resolution support.