Bleep Blop: Pac-Man 256 Now Endlessly Gobbling On PC
Mind your fruits!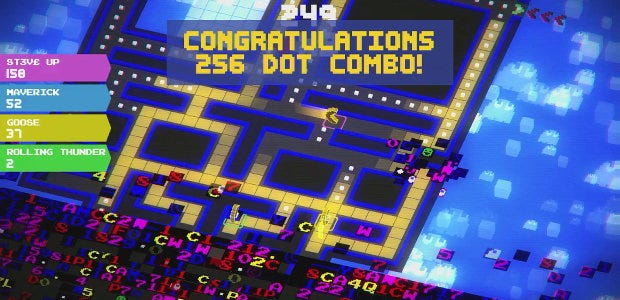 The glitched-out endless gobbling of Pac-Man 256 [official site] has arrived on PC, following a stretch of munching up fruits on pocket telephones. While it's free-to-play on pockphones, here it's £4 but does come with new four-player local co-op support. Why not eat some fruit with a friend? Pac-Man 256 isn't your grandpa's Patrick Mann, making him dash through a glitchifying maze inspired by Pac-Man's kill screen.
Pac-Man 256's glitchmess is based on ye olde Pac-Man's kill screen on the 256th level, where half of the screen turns into garbled nonsense. It runs with this, making an endless mazer for Ian Mann to run, dodging ghosts and building up score multipliers. And what do points mean? Bleepy noises! Power-ups like lasers and tornadoes also mean bleepy noises.
This retro reworking is by Hipster Whale, the folks who made the very Frogger-y mobile hit Crossy Road, as well as 3 Sprockets. It's weird - the day before Crossy Road launched and quickly became mega huge, I played Hipster Whale co-founder Andy Sum's dubstep-blasting, meme-flinging montage parody FPS GAME OF THE YEAR: 420BLAZEIT vs. xxXilluminatiXxx [wow/10 #rekt edition] and thought "This goofy game will make him famous." Well!
Pac-Man 256 is out on Windows, Mac, and Linux for £3.99/4,99€/$4.99 through Steam.
I still miss Fruitaku with its enthusiastic updates on the heart of any real video game: fruits.