Patrician IV: Rise Of A Dynasty Announced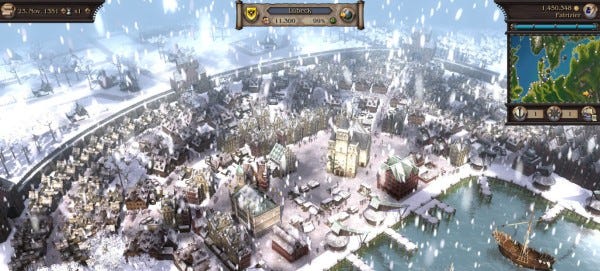 RIGHT. Kalypso's announced an expansion for Patrician IV. I'm struggling to concentrate here as I've just found out that Kalypso are based in Worms, Germany, which is such a messed up name that I couldn't have invented it if I tried, but I'll soldier on. Rise of a Dynasty will add a new co-op mode, six new scenarios, eight new missions and all sorts of smaller improvements, including the chance to "interact with individual citizens to gauge the populace's attitudes and concerns". Presumably so you can ask the weird banana guy what he'd like to see in your merchant caravan and end up with thirty tons of bananas rotting in the city docks. Full press release follows.

Kalypso Announces Official Add-on for Trading Simulation Patrician IV

"Rise of a Dynasty" to add multiplayer, new scenarios, maps and more to the popular trading simulation

Ridgewood, NJ, January 28, 2011 - Kalypso Media today announced a new expansion for Patrician IV, their best-selling medieval-era trading simulation game. Rise of a Dynasty will be the first official add-on to Patrician IV, and will add a variety of new cities, scenarios, cooperative multiplayer and much more. Patrician IV: Rise of a Dynasty is scheduled for a release exclusively through digital distribution channels in North America on March 31, 2011.

Patrician IV: Rise of a Dynasty offers players an exciting and fresh trading challenge with eight new cities to explore and introduces a multiplayer co-op mode for up to four players via the Internet or LAN. New features, based on suggestions of the fan community, have been added along with numerous improvements to the city environments and overall atmosphere of the game. Several timed scenarios are available, which, depending on how quickly they are completed by the player, adjust the difficulty and wealth available of later missions.

Features include:

* Jointly control and grow the same Hanseatic trade organization and fight sea battles as a team; teammates can join or leave a game at any time in multiplayer mode
* Six new scenarios that can be played in single or up to four-player multiplayer co-op mode
* Expand your trade to eight new cities spread across four regions -- the addition of land-based caravans allows the players to expand their trade empire by sea and by land
* New assignments and missions, including a treasure map which must be assembled from parts gathered throughout the game, provide new challenges and depth of play
* Stylish new interior views of buildings, new citizen animations and behaviors, and animated businesses enhance the game atmosphere; interact with individual citizens to gauge the populace's attitudes and concerns
* Enjoy many additional game enhancements suggested by the Patrician community
* Patrician IV: Rise of a Dynasty is being developed by Gaming Minds Studios GmbH, a studio created with members of the original Patrician development team.

About The Kalypso Media Group

Founded in 2006 in Germany by industry veterans Simon Hellwig and Stefan Marcinek, Kalypso Media is a global, independent developer, marketer and publisher of interactive entertainment software that employs nearly 100 video game industry experts world-wide.

Along with Headquarters in Worms, Germany, the company has offices in the United Kingdom and the United States. Kalypso Media also enjoys very strong global digital distribution through its Kalypso Media Digital Ltd. subsidiary, and owns three development studios – Realmforge Studios GmbH, Gaming Minds Studios GmbH and Noumena Studios GmbH -- and works with multiple leading independent developers.

Kalypso Media recently released the critically acclaimed best-seller Tropico 3 for Xbox 360 and PC, DarkStar One – Broken Alliance for Xbox 360, Disciples III: Renaissance and Patrician IV: Conquest by Trade for Windows PC. Upcoming titles include Dungeons, The First Templar and Tropico 4.